Viernes, 23 noviembre 2012
Viernes, 9 noviembre 2012
Lunes, 21 mayo 2012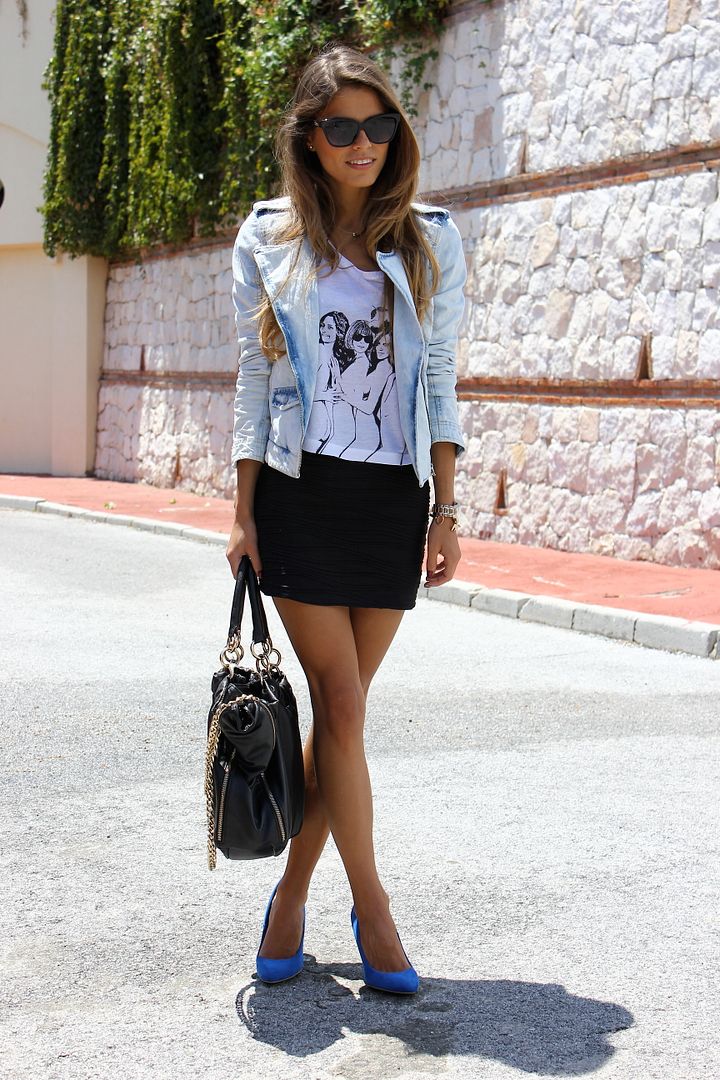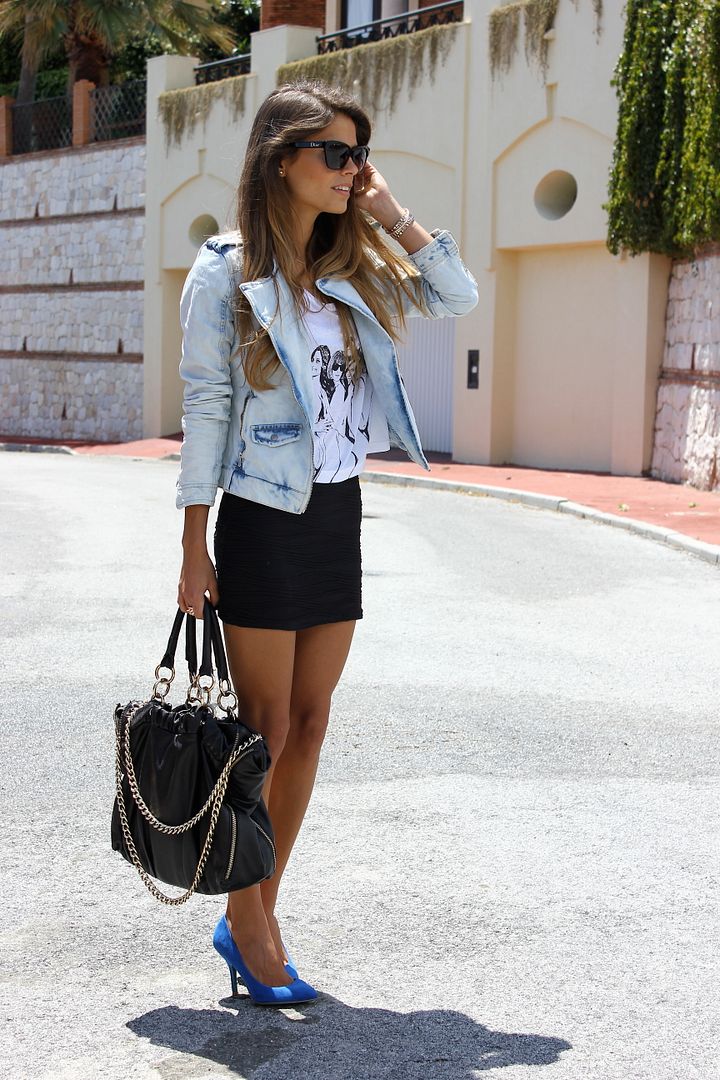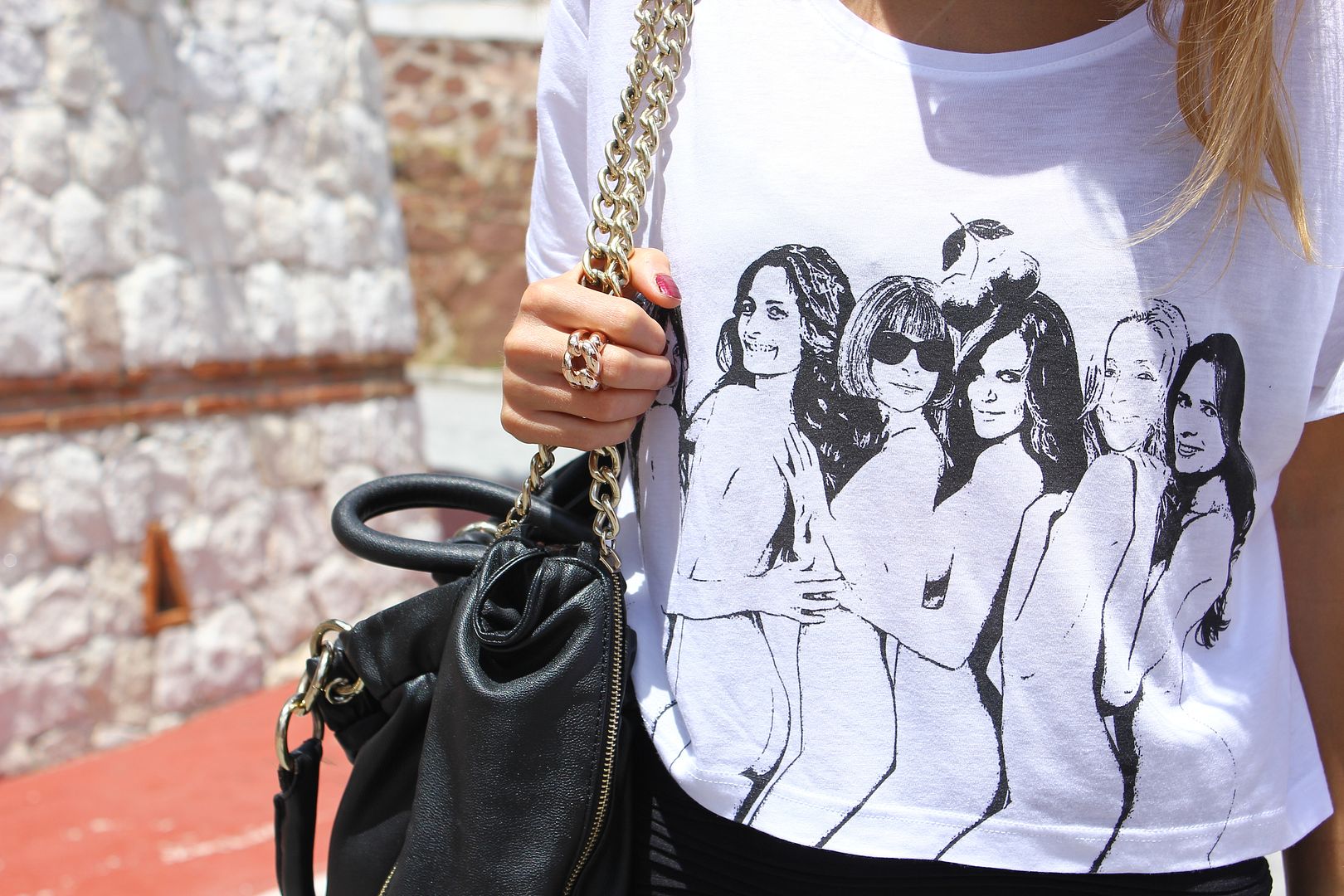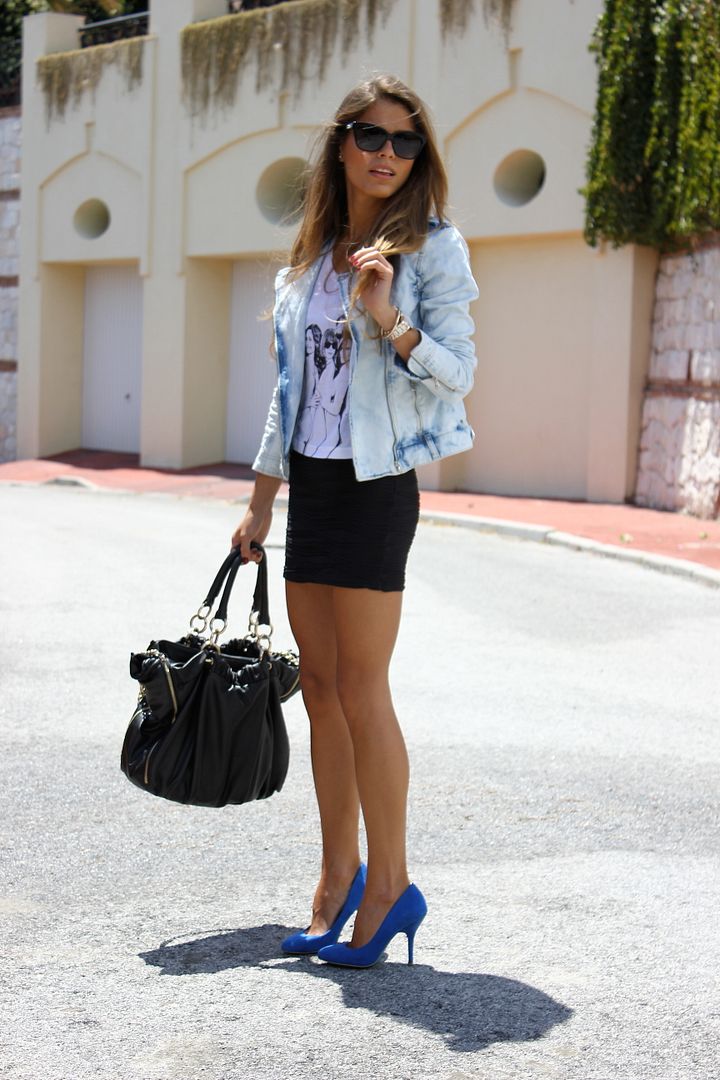 Un look sencillo para un plan tranquilo de tarde de sábado: dimos una vuelta por las tiendas y antes de irnos a casa, nos tomamos un vino y unas tapas. Así como cuando me compré los tacones en las rebajas de invierno dudé si le daría al final todo el uso que quería o no, últimamente sólo tengo ojos para ellos… Bueno, miento, para ellos y mis sandalias de Mango (of course!). Dan ese toque de color que todo outfit en primavera-verano necesita. La camiseta llegó a casa hace una semana y además de que me pareció súper original (sí, es Anna Wintour), me encantan las camisetas anchas y cortitas para el verano, quedan genial con shorts y faldas como ésta!
Mil gracias por todos los comentarios del ultimo look… Sois increíbles!! Y lo mejor, creo que os transmití lo que pretendía y que se resume en: tenemos que creérnoslo todas y cada una de nosotras! Más que nunca se trata de una cuestión de actitud! Mil besos y muchísima fuerza para esta nueva semana :)
A simple look for a relax Saturday afternoon: walked around the shops and before go home, we made a stop for a wine and tapas. Just when these hells arrived at home, I love them but at the same time I doubted whether finally they will end up being useful or not, and by now, I only have eyes for them… Well, I lie cause I have eyes for them and for my beloved sandals from Mango (of course!). They add the touch of color to any spring-summer outfit needs. The shirt arrived at home a week ago and well I found it super original (yes, it's Anna Wintour), I love this kind of shirts for the summer, they look great with shorts and skirts like this!
Thanks for all the lovely comments on the last look… You are amazing! And the best, I think I delivered to you what I really wanted and that is summarized in: we have to believe more in ourselves! More than ever it is a matter of attitude! A thousand kisses and a lot of strength for this new week :)
I wear:
Cazadora vaquera/Denim jacket – Zara (SS 12)
Camiseta/T-shirt –
Wowzer
(SS 12)
Falda/Skirt – Lefties (AW 11-12)
Tacones/Heels – Zara (AW 11-12)
Bolso/Bag – Zara (old)
Anillo/Ring –
LeCarré
Pulsera "llave"/"Key" bracelet –
Lovelix
Reloj/Watch – Asos (AW 11-12)
.
Martes, 8 mayo 2012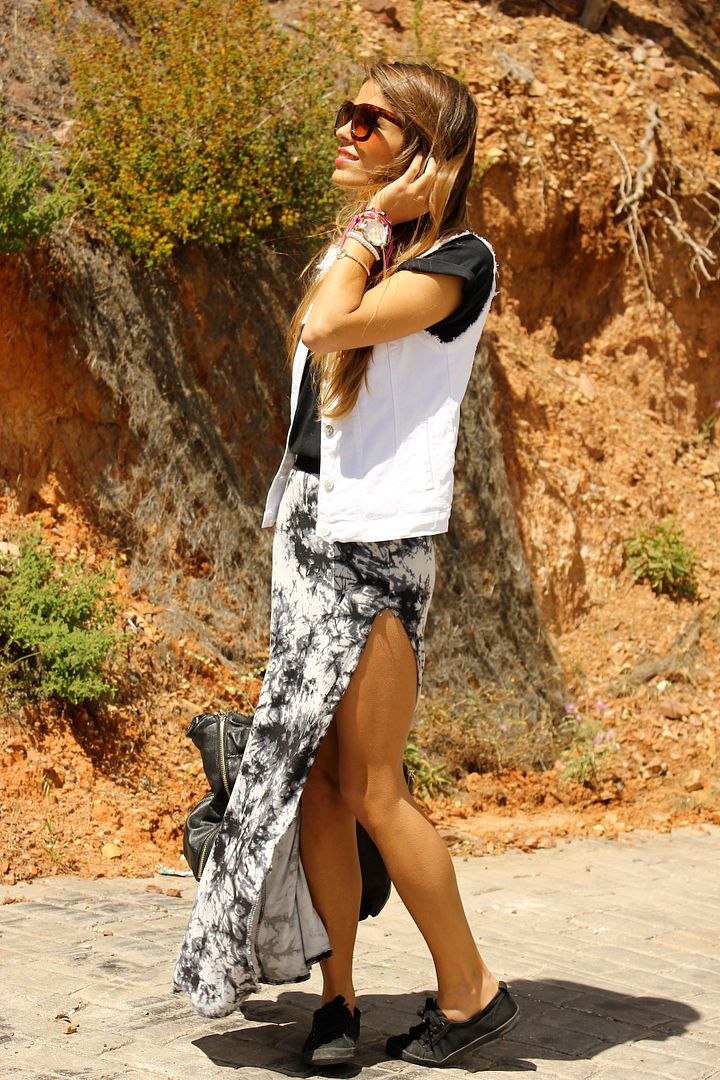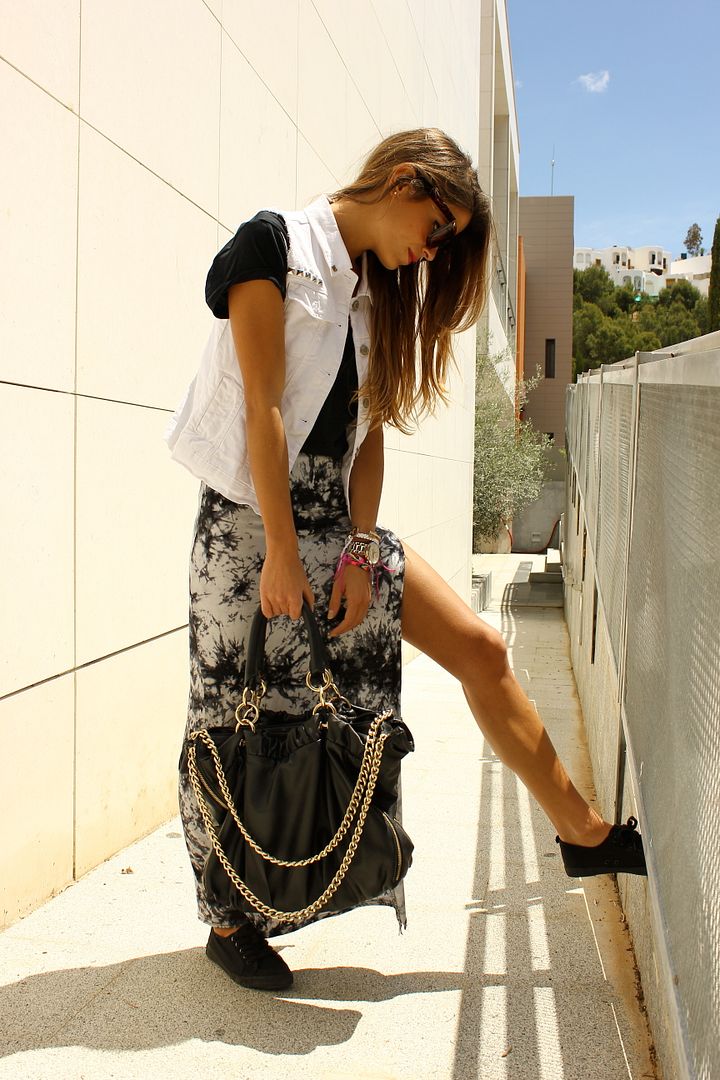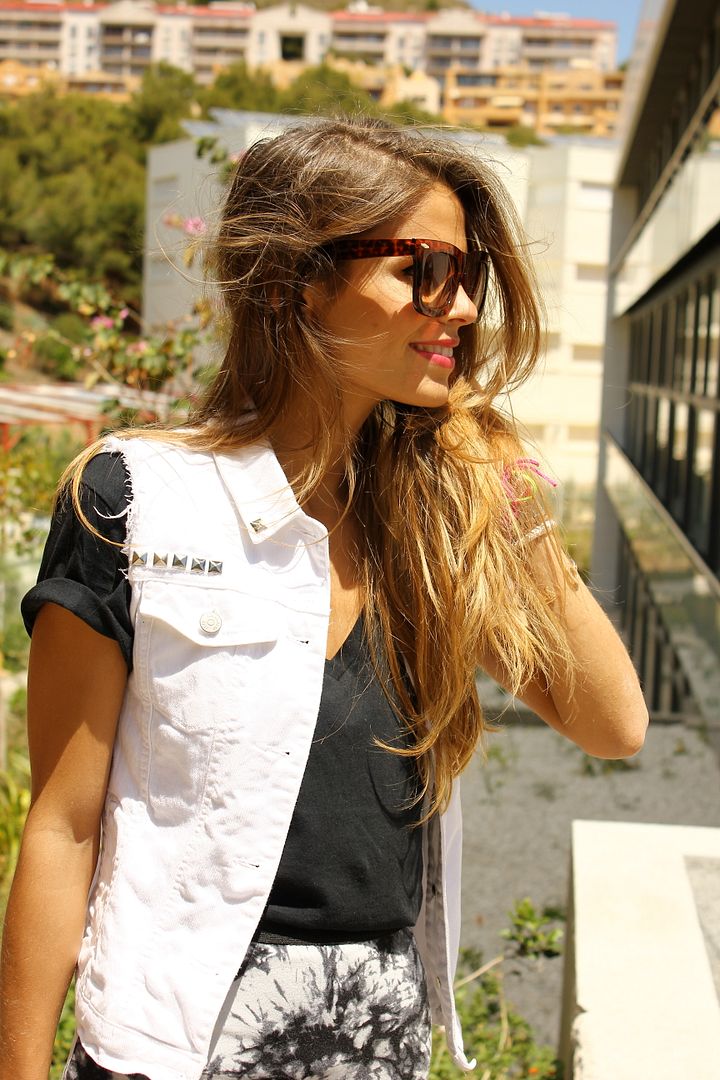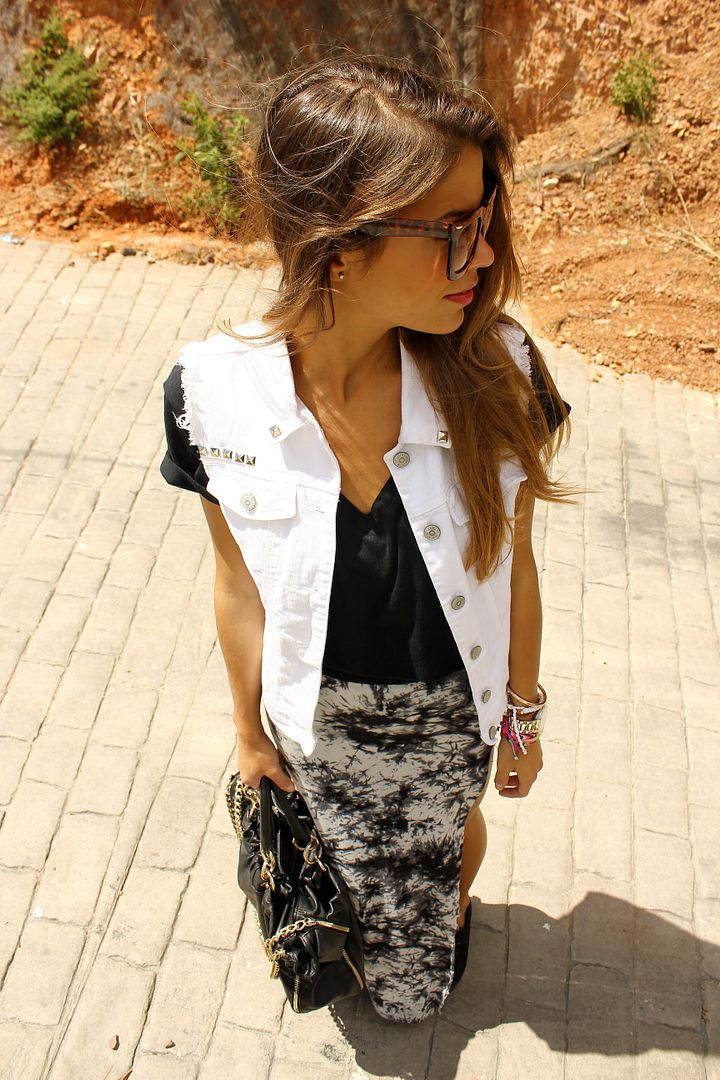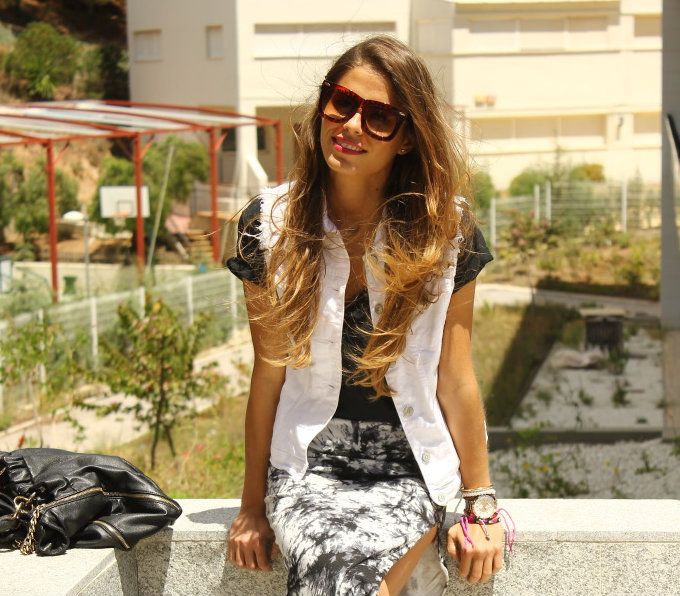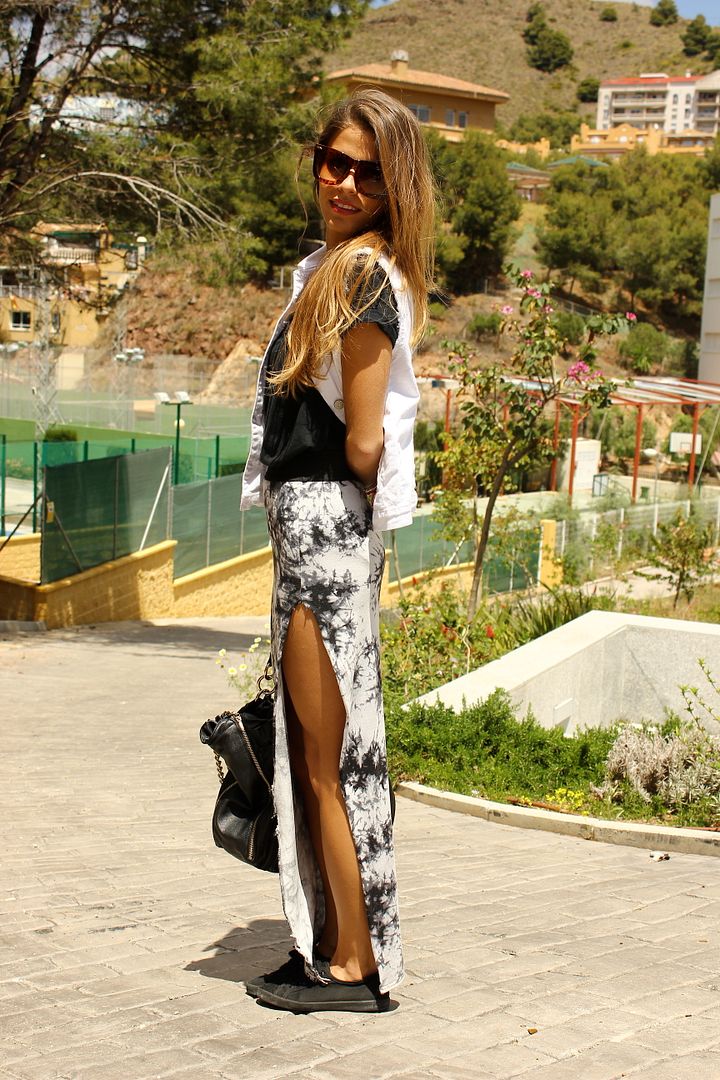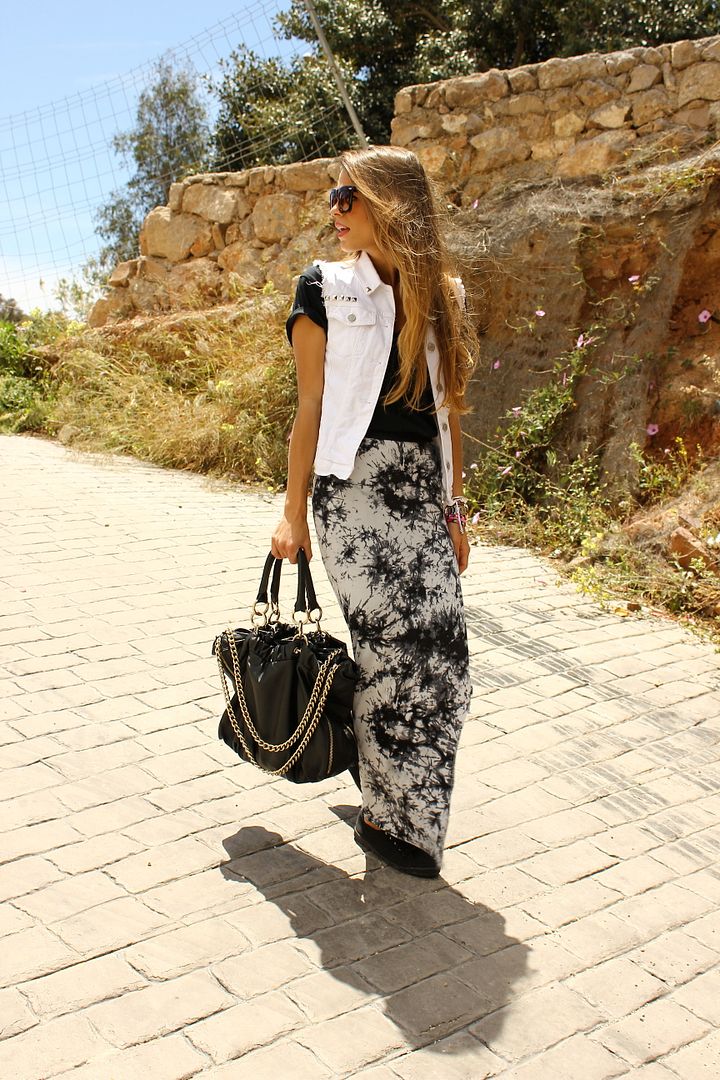 Un look muy cómodo, rockero y que rompe con los últimos looks que han aparecido por el blog. Así como ayer os decía que me encanta ir en tacones (lo prometo, me encantan los tacones!) también cuento con zapatos planos y, entre un sin fin de bailarinas, se encuentran estas zapatillas. Las tengo desde hace tres años y antes no salía de ellas ni del mismo modelo pero en blanco, luego aparecieron los tacones y surgió mi amor por ellos. Otro consejo dentro de la categoría "básicos en tu armario": sin duda alguna, debes tener unos snekears o unas Converse bien en blancas bien en negras. Son aptas durante todo el año y no podréis ir más cómodas!! Esta falda sólo la habéis visto una vez por aquí y no llevaba la raja lateral… Sin ella era imposible andar! Ahora esta de moda todo en "tie-dye" pero lo cierto es que a mi me ha gustado desde siempre y tengo varias prendas con este estampado. Como todavía me quedan tachuelas del paquete que me compré, añadí algunas al chaleco para darle un aire mas rockero, pero estoy pensando en bordarle algo en los hombros o añadir unos parches…
Chicas, no se qué estáis haciendo pero el blog no para, sube como la espuma!! Así que solo puedo decir GRACIAS! Sé que estáis encantadas con este ritmo de actualización y yo más, me quita mucho más tiempo, pero lo hago encantada!!! Mil gracias por todos vuestros comentarios, ya habéis visto que los leo todos por supuesto! Que tengáis feliz día (L)
A look very comfortable, rocker and which breaks with the latest looks that have appeared on the blog. As I told you yesterday that I love to go in high heels (I promise, I love heels!) I also have flat shoes and, among an endless number of ballerinas, you can find these sneakers. I have them for three years and I used to wear them all the time. Later heels appeared on my life and also my love for them grew. Another tip in the category "basic in your wardrobe": no doubt, you must have a snekears or a pair of Converse in black or white. They are suitable all year round and you can not go out more comfortable! You have seen this skirt around here once, when I still hadn't changed it… But without the slit, you couldn't walk! Now, we have a crush for all in "tie-dye"but the truth is that I always liked it and I have several pieces with this pattern. I added some studs to the vest to give it a rocker touch, but I'm thinking of embroidering something on the shoulders or adding some pads…
Girls, I don't know what are you doing but the blog is growing so fast, going through the roof! So I can only say THANK YOU! I know you are delighted with this update rate and I do even despite of the fact that it takes me a lot of time, but I do it enchanted! Thanks for all your lovely comments, you have seen that I read all of them of course! Have a nice day (L)
I wear:
Falda/Skirt – New Look (SS 11)
Camiseta/T-shirt – Zara (old)
Chaleco/Denim vest – Zara (old)
Zapatillas/Sneakers – H&M (old)
Bolso/Bag – Zara (old)
Pulseras/Bracelets – Mercadillo/Flea market +
Lovelix
.
Viernes, 4 mayo 2012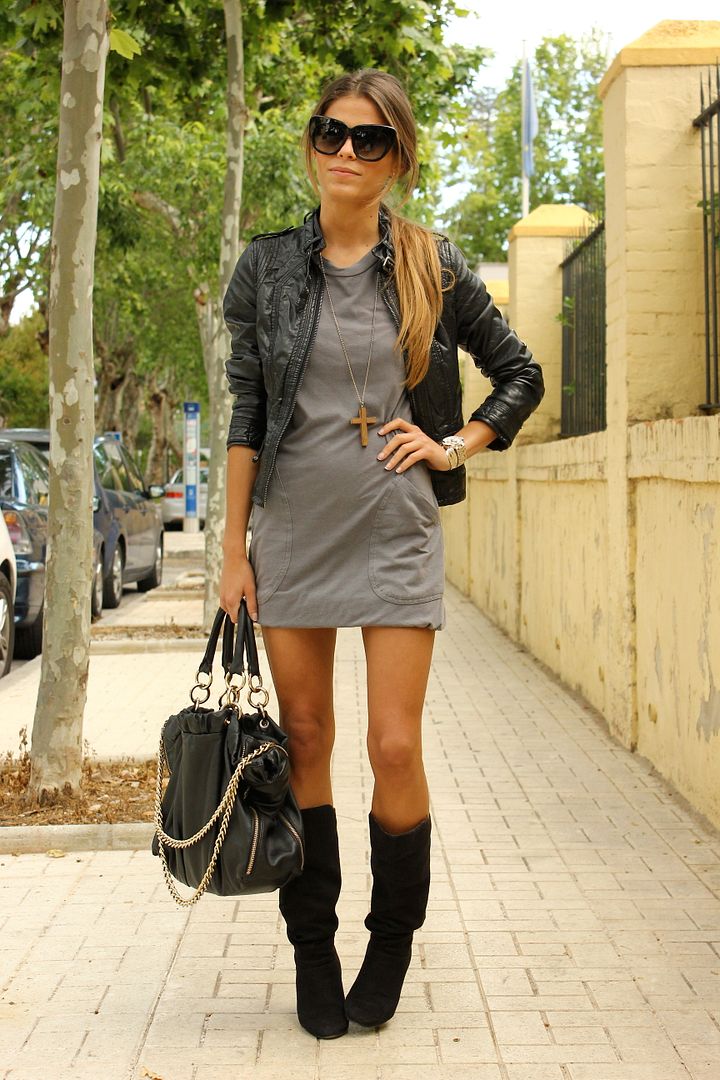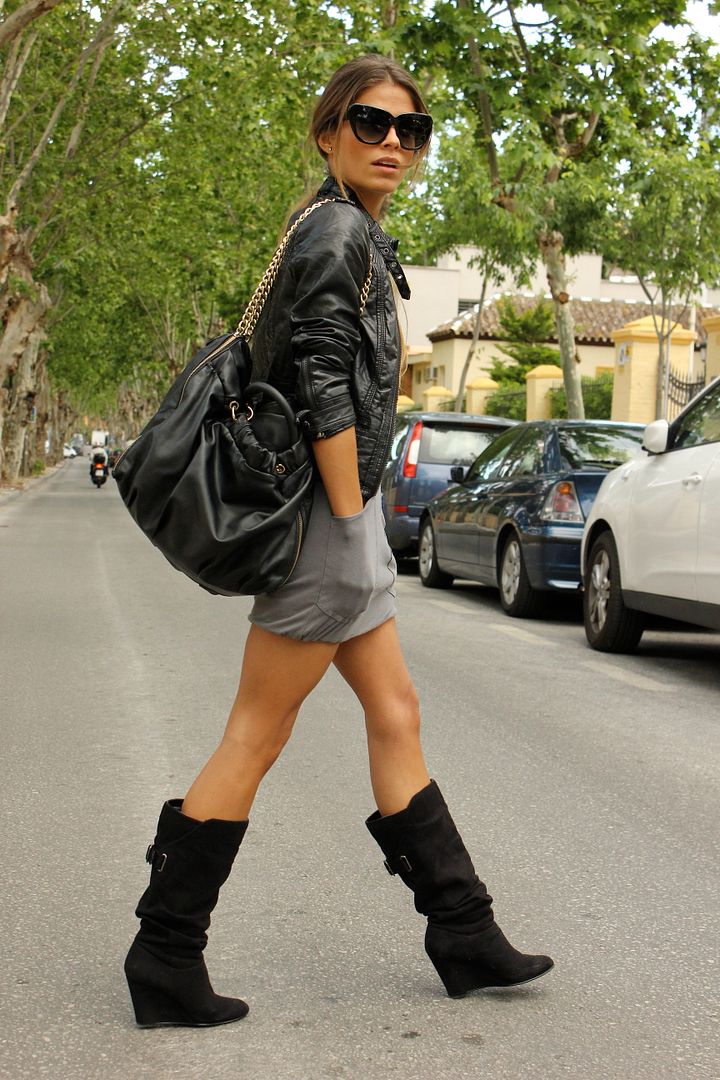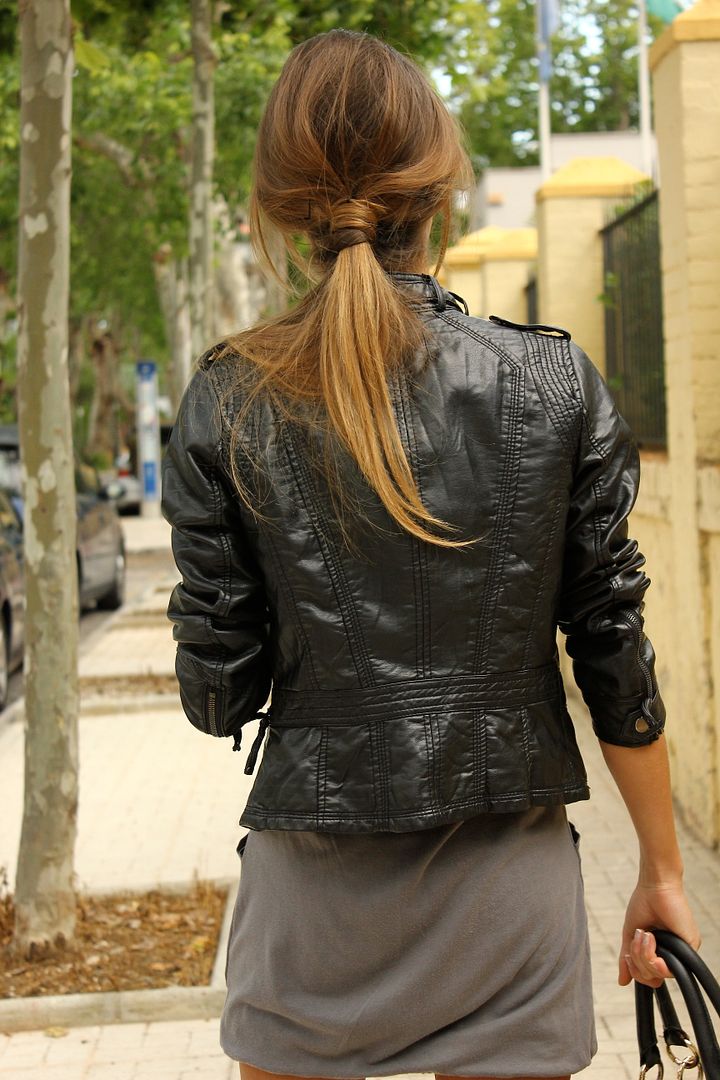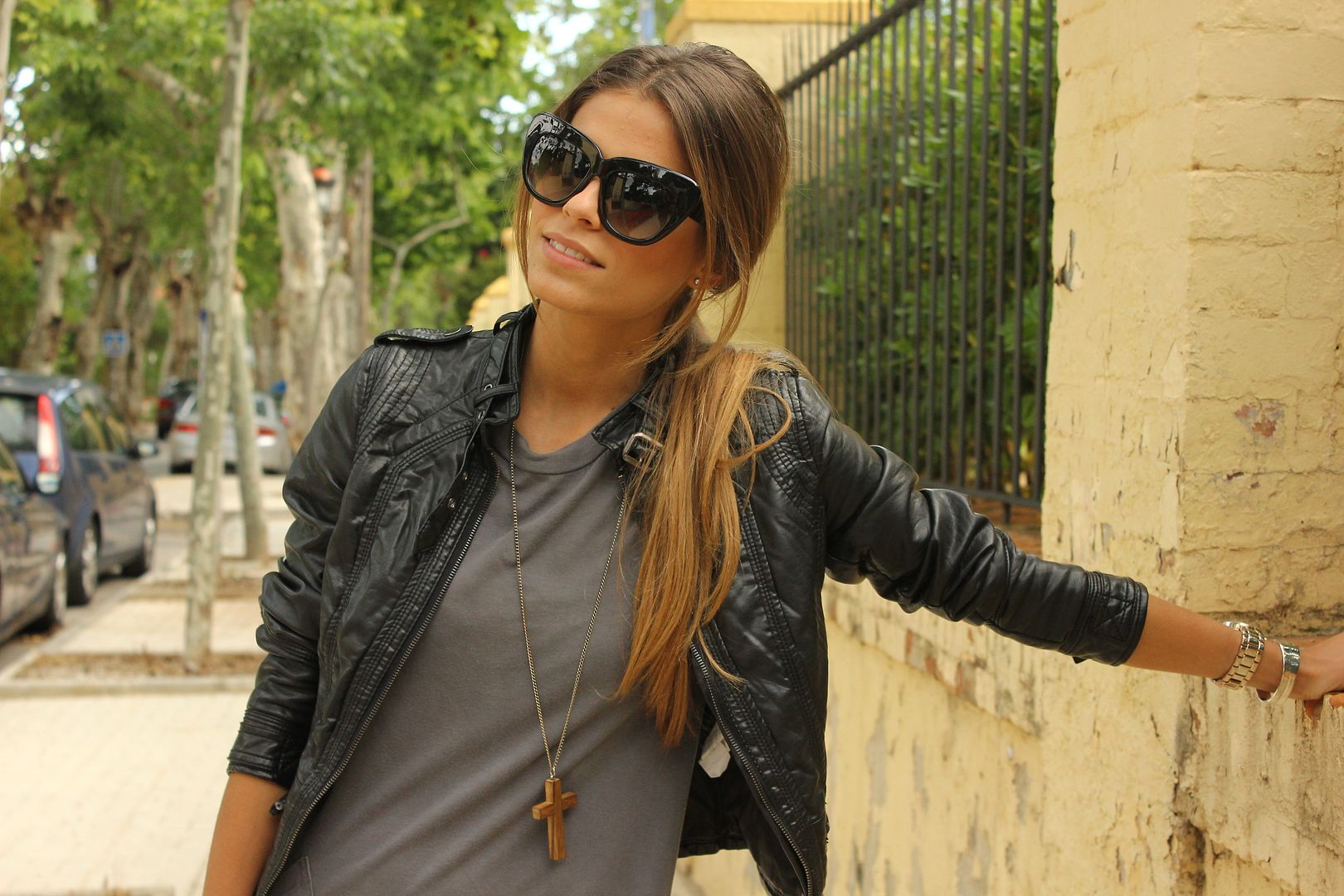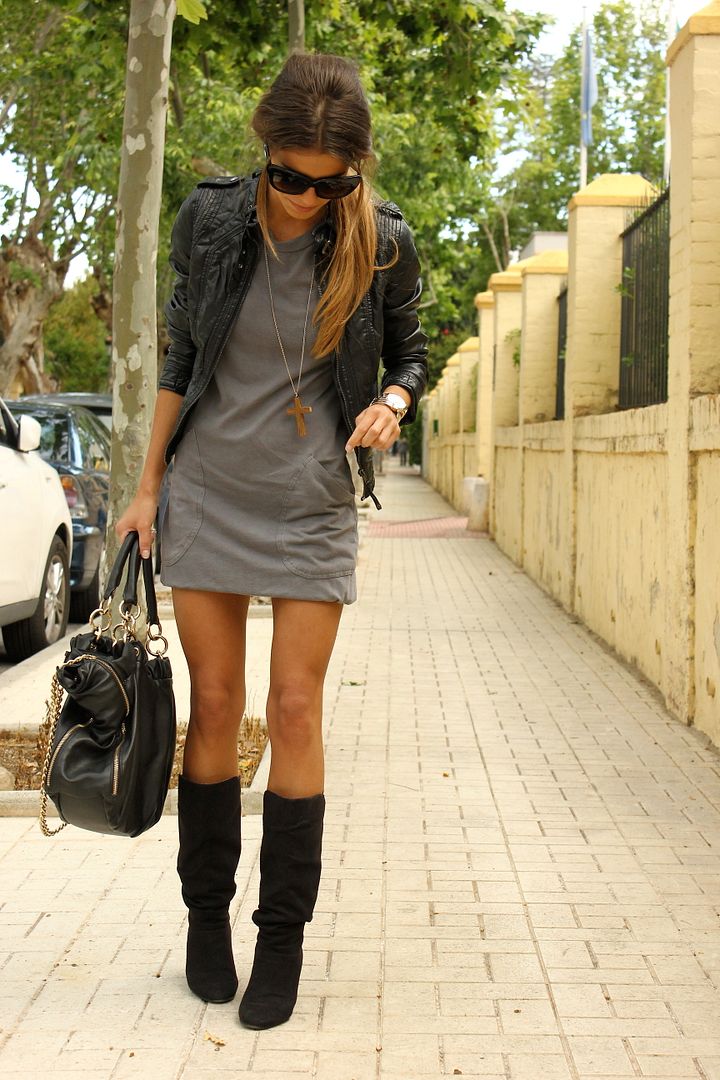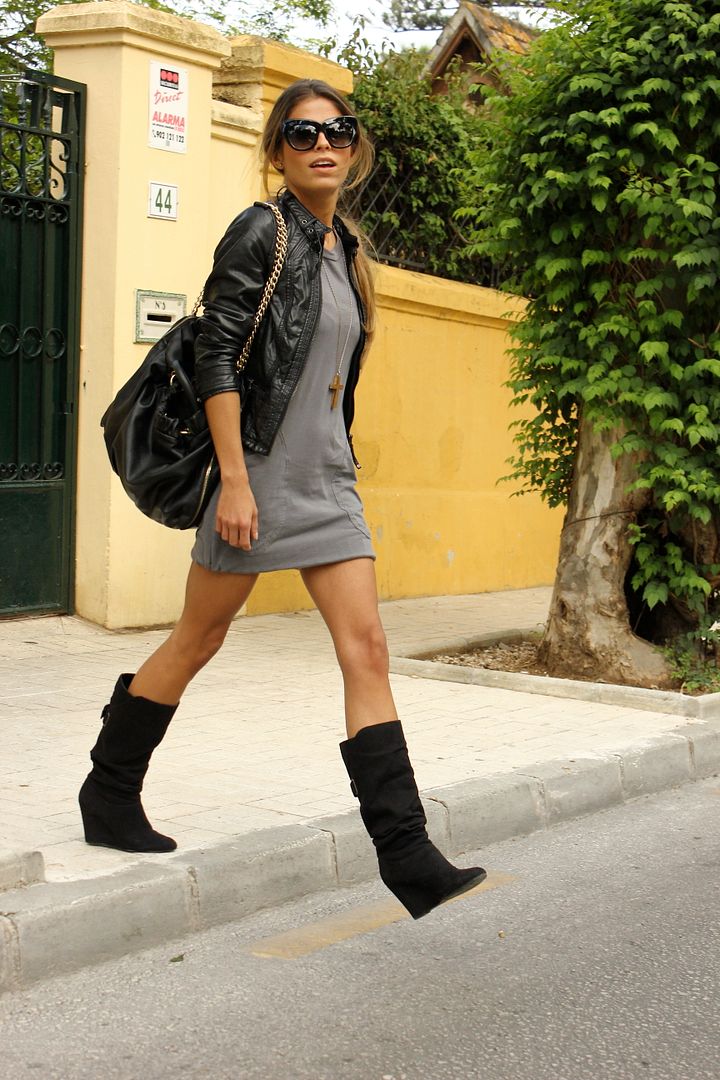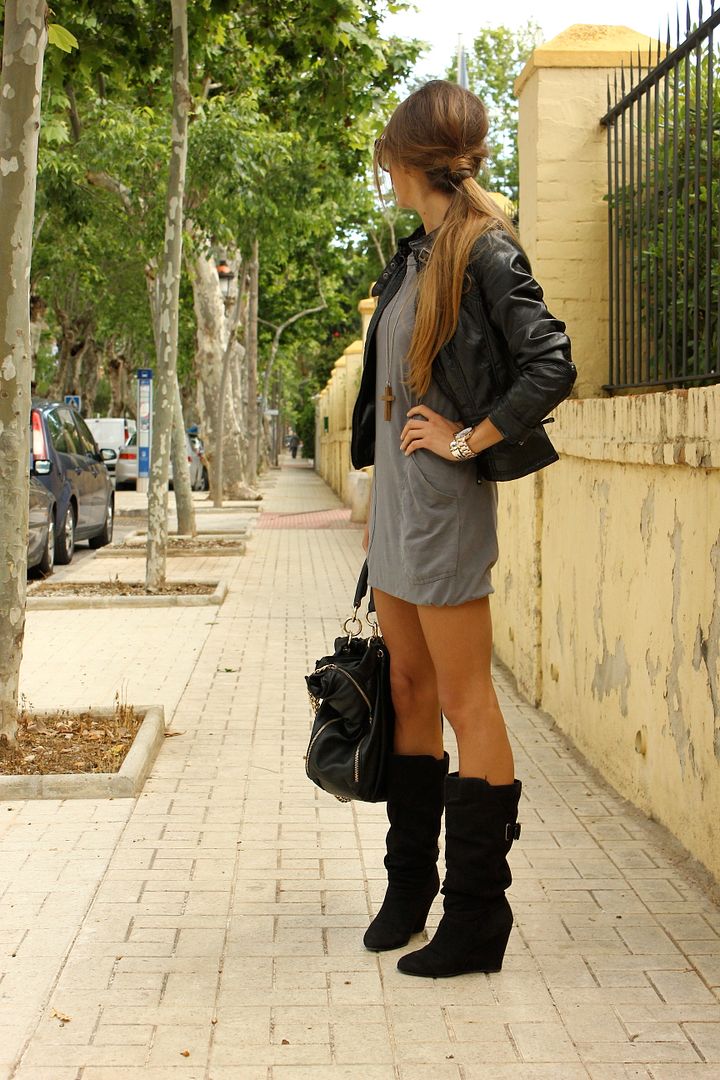 Parece mentira que hace una semana hacía sol todos los días y calor y ahora, otra vez, lluvias y bajada de temperatura unos grados… Por eso creo que es el momento y día perfecto para combinar botas con shorts, vestidos y faldas. Esas combinaciones me chiflan pero para verano… Aquí en el sur si lo haces, o sufres o te derrites! Anyway, esta semana tuve que tirar algún que otro día de mi biker negra y la combiné con este vestido que sólo habéis visto una vez hace muucho tiempo. Un look rockero con el que ir desde por la mañana para ir a la facultad o hacer recados hasta la noche para ir a cenar, porque estas botas son comodísimas! Al final, este tipo de looks son los que más necesitamos todas ;)

Viernes!!! Espero que el tiempo nos dé una tregua y pueda ir a la playa que me quede con ganas el fin de semana pasado! Además, tengo que preparar algunas cosas para el blog :) Muchas gracias por todos los lindos comentarios, no me canso de deciroslo!! Mil besos y a disfrutar!
It seems incredible that a week ago it was sunny and hot every day and now, again, showers and the temperature dropped a few degrees… So I think it's the time to combine our beloved boots with shorts, dresses and skirts. I love these combinations but for summer… Here in the south that is insane! Anyway, this week I had to put back my black biker and I combined it with this dress you have only seen once loong time ago. A rocker outfit ready to go since early in the morning until evening for dinner, because these boots are very comfortable! In the end, these looks are the most need for all the girls ;)
Friday! I hope the weather gives us a respite and can go to the beach finally!! In addition, I have to prepare some things for the blog :) Thanks for all the nice comments, I never get tired of to tell you! Kisses and enjoy the weekend!
I wear:
Biker – Zara (SS 11)
Vestido/Dress – Zara (old)
Botas/Boots – New Look (AW 10-11)
Bolso/Bag – Zara (old)
Pulsera "tenedor"/"Fork" bracelet -
Link&Love
Collar/Necklace – DIY
.