Miércoles, 21 noviembre 2012
Viernes, 9 noviembre 2012
Miércoles, 8 agosto 2012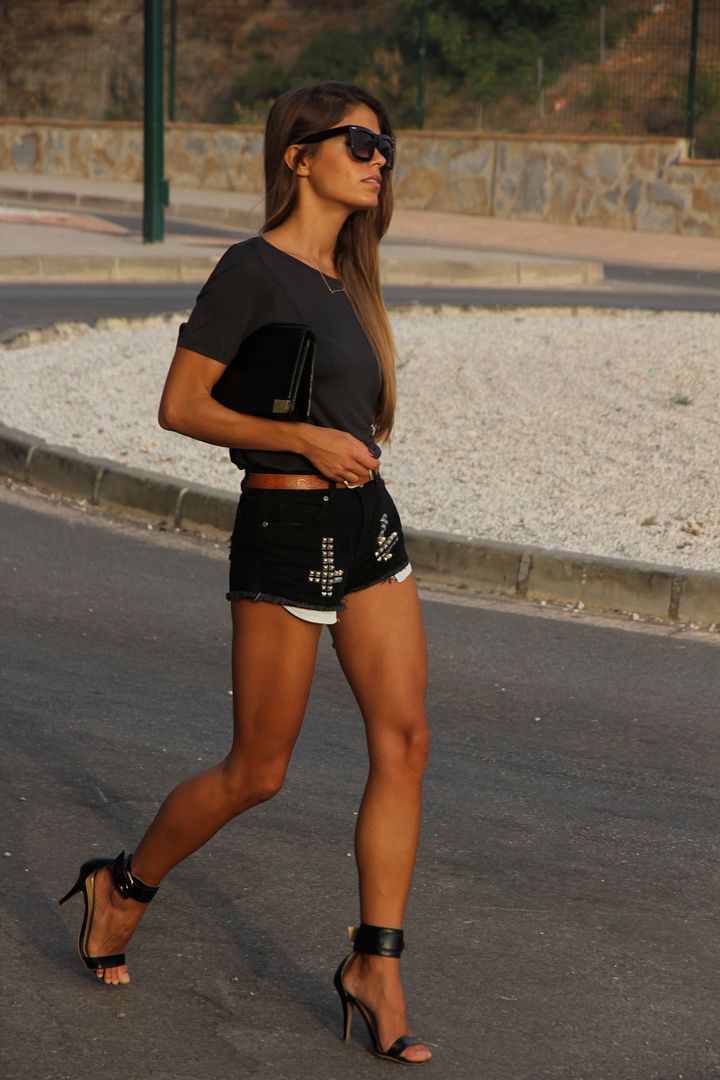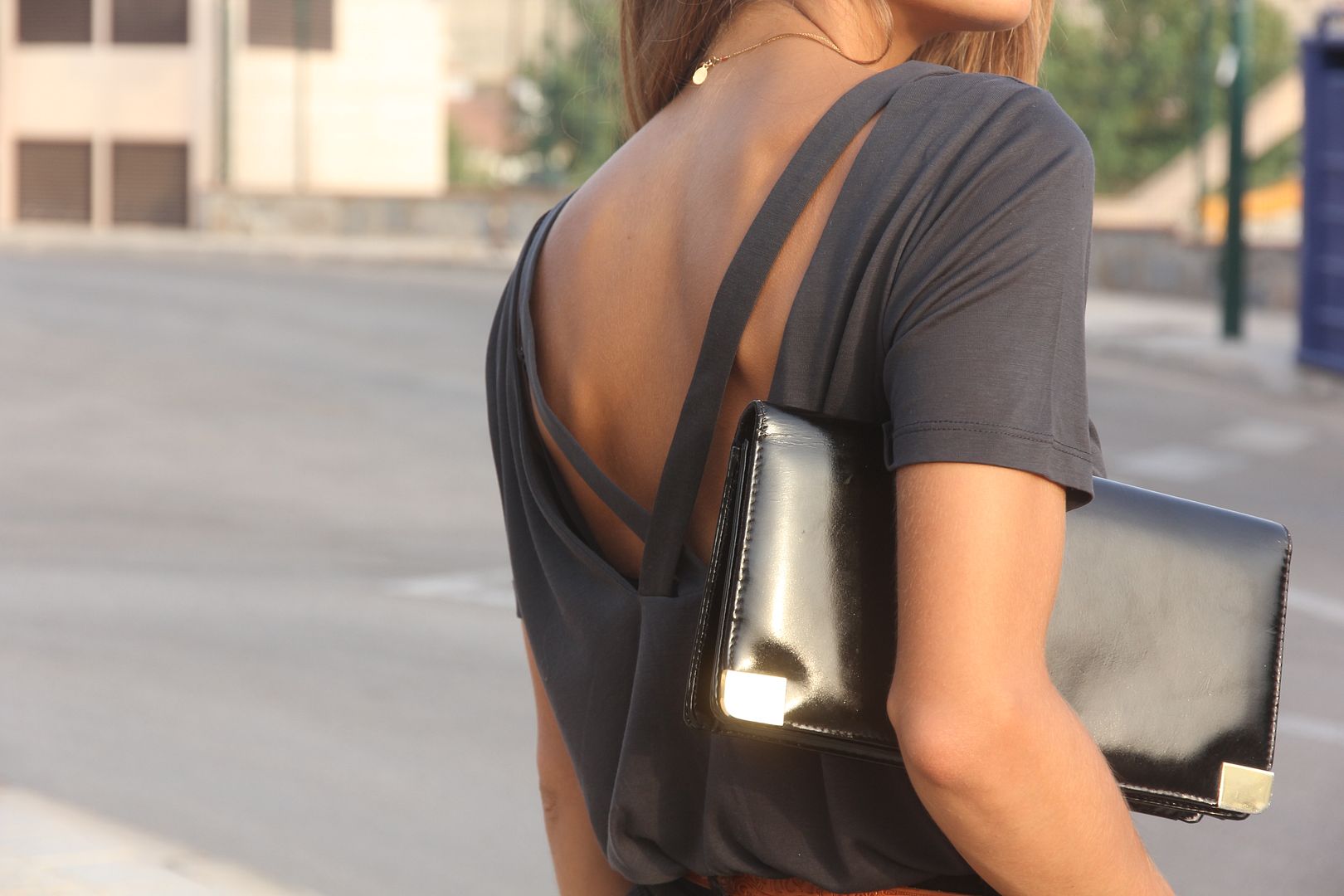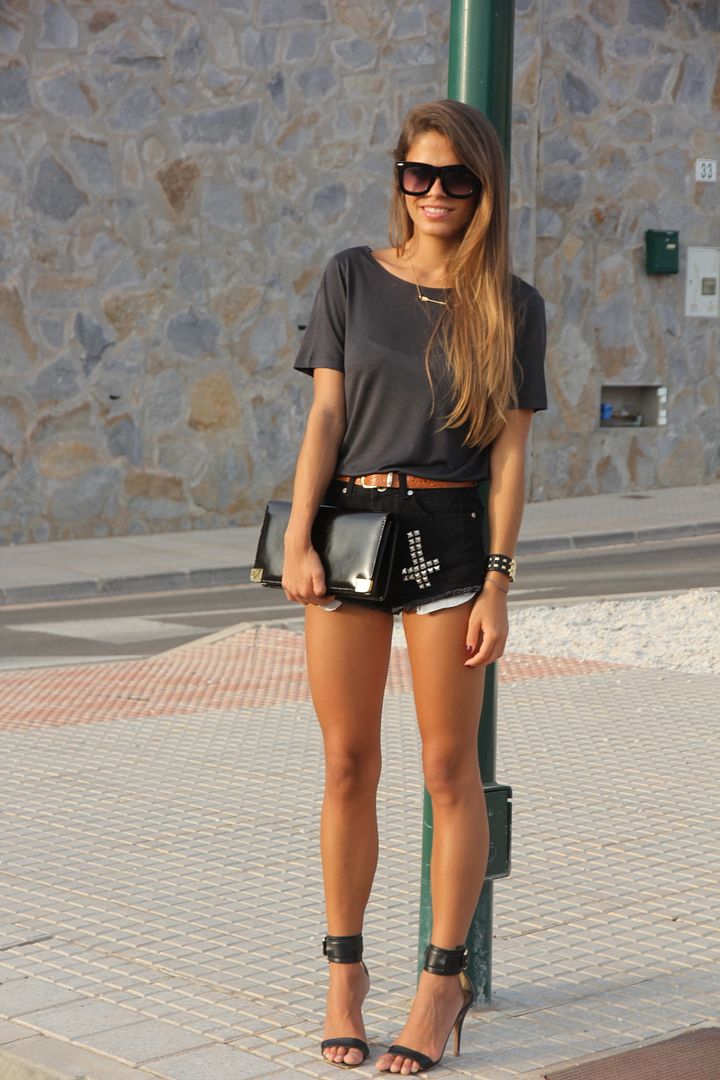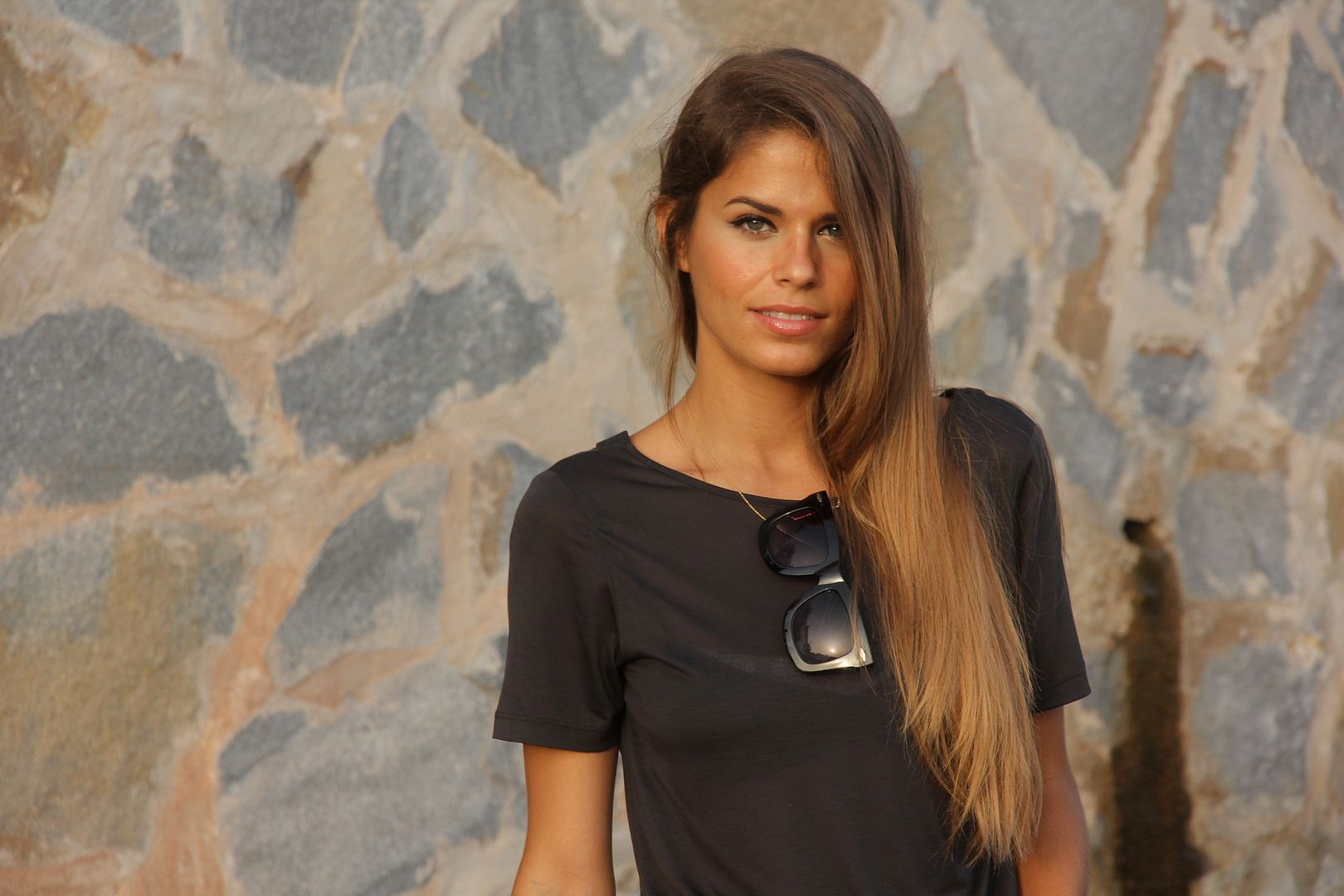 Chicas! Ya estoy de vuelta de mi viaje a Vigo, así que el blog volverá a su rutina normal! Lo hemos pasado genial, ya os contaré más cuando os enseñe fotos de allí ;) El sábado tuvimos que salir a hacer algunos recados y compras de último momento antes del viaje y éste fue el look. Adoro las tachuelas y llevaba muchísimo tiempo buscando unos shorts de este estilo… Me encantan sobre todo para combinar con básicos y aunque con estos shorts el look rocker es facil, me gusta buscar el contraste entre lo más formal y el toque rockero y desenfadado que aportan. Además, seguro que quedarán genial en otoño con medias, tacones y maxi jersey para ir de cena informal! La camiseta me la compré hace un par de semanas en rebajas y tiene una caída espectacular… Definitivamente, sabiendo que hay tantas (inexplicable) me la voy a comprar en blanca también!
Mil besitos chicas y gracias por estar ahí siempre :)
Girls! I'm back from my trip to Vigo, so the blog will return to its normal routine! We had a blast there but I'll tell you more about it when I show you the pictures of the collaboration and so on ;) On Saturday we had to go out for doing some errands and last minute shopping before the trip and this was the look. I love the studs and I was looking for this style of shorts for so long… I particularly like them for basic combinations. Even though it's pretty easy to get a rocker look, I like to find the contrast between getting a more formal look but rocker at the same time… Indeed, they are super cool for fall with tights, heels and maxi-sweater for an informal dinner! I bought this tee a couple of weeks ago in sales. Definitely, knowing that there are so many of it (unexplained) I'm going to buy it in white too!
Kisses pretties and thanks for always being there :)
I wear:
Camiseta/T-shirt – Zara (SS 12 SALES)
Sandalias/Sandals – Mango (SS 12)
Clutch – Vintage
Cinturón/Belt – Vintage

PD. Si aún no has participado en el sorteo de Xlcusive y ganar un lote de productos… CLICK AQUÍ!!
.
Viernes, 3 agosto 2012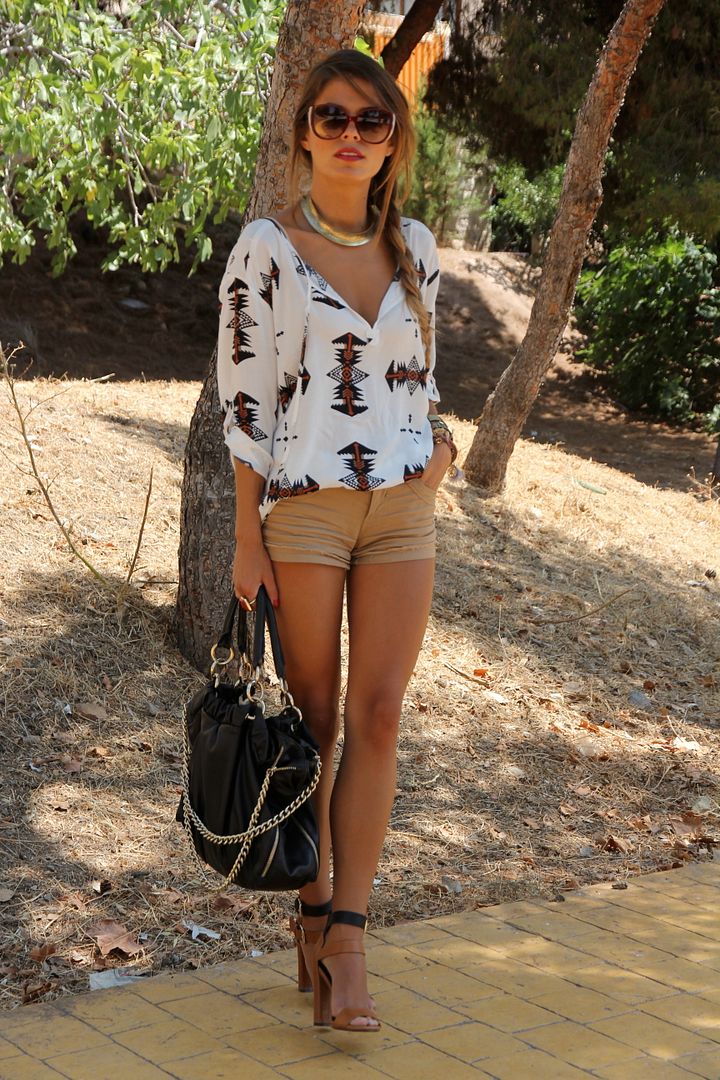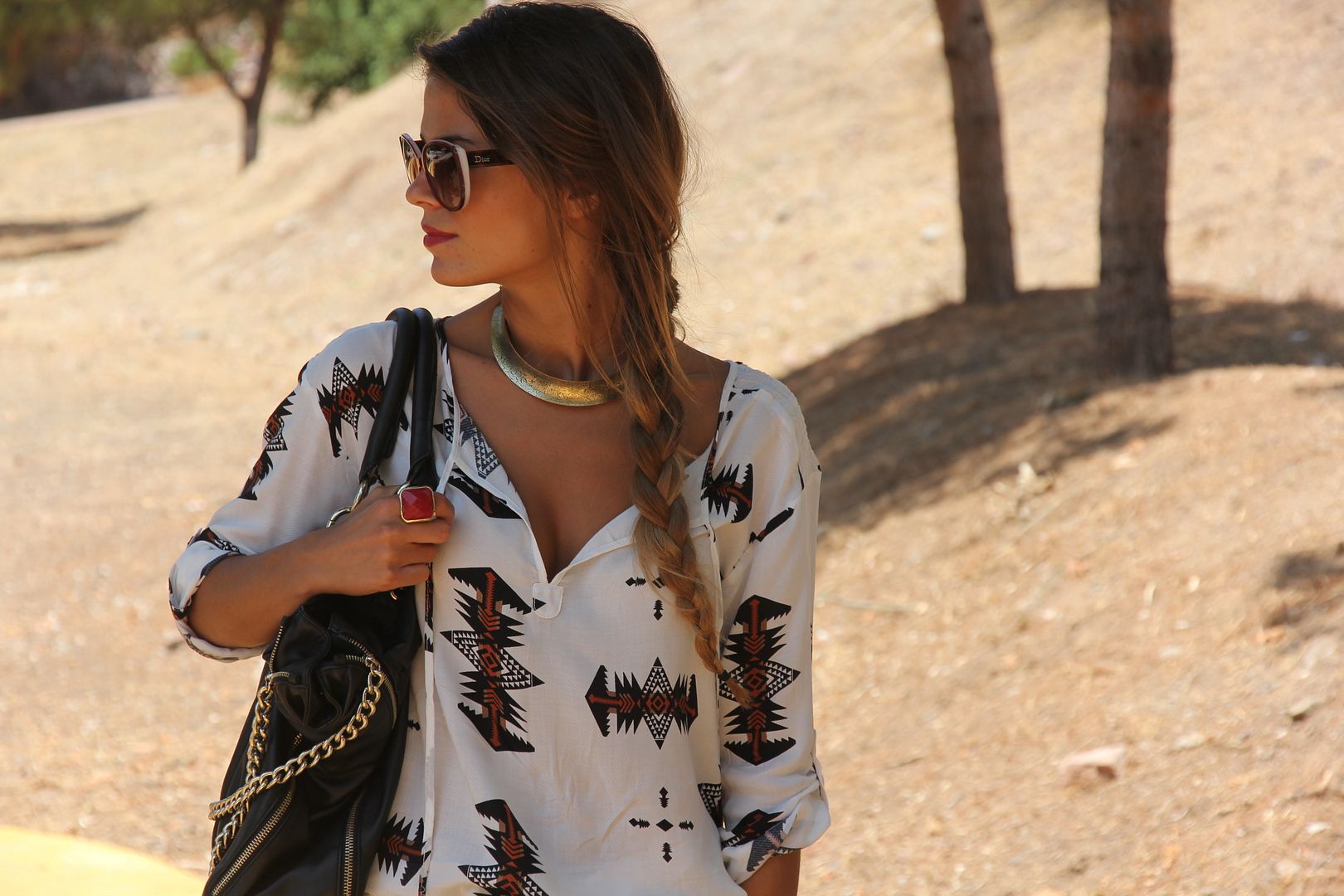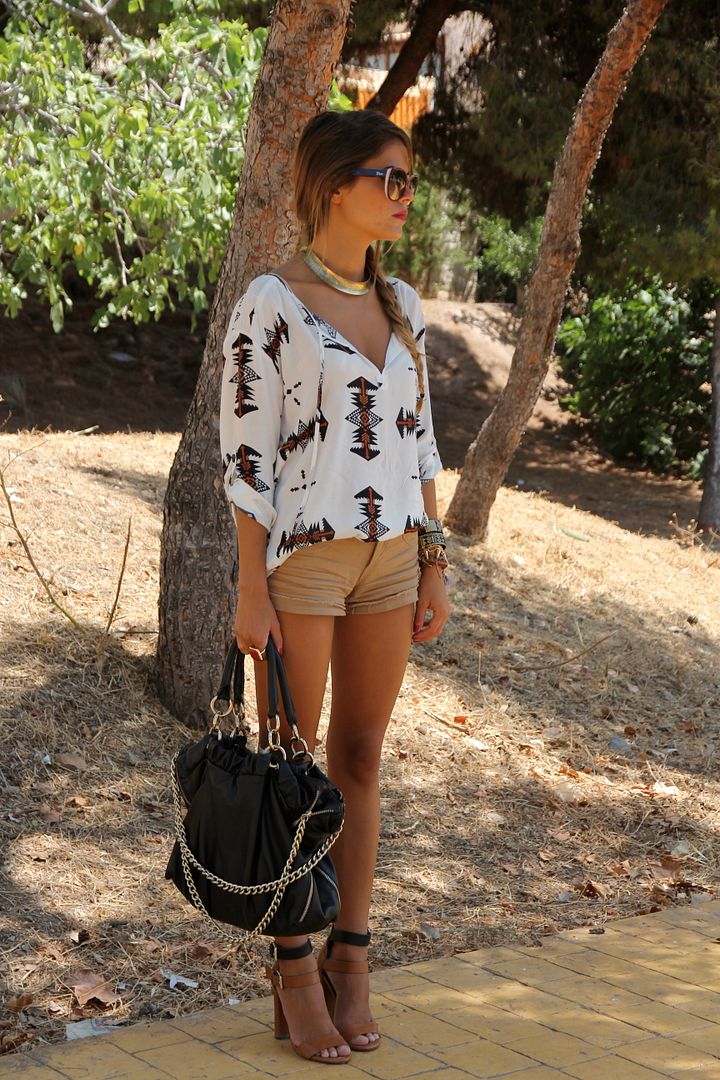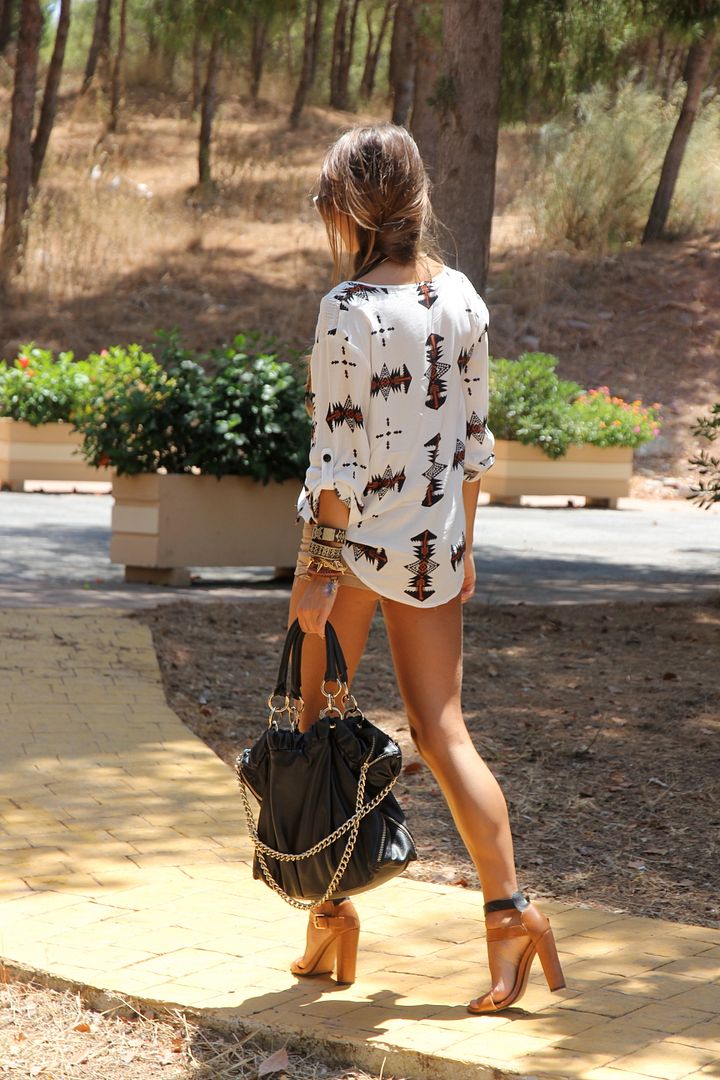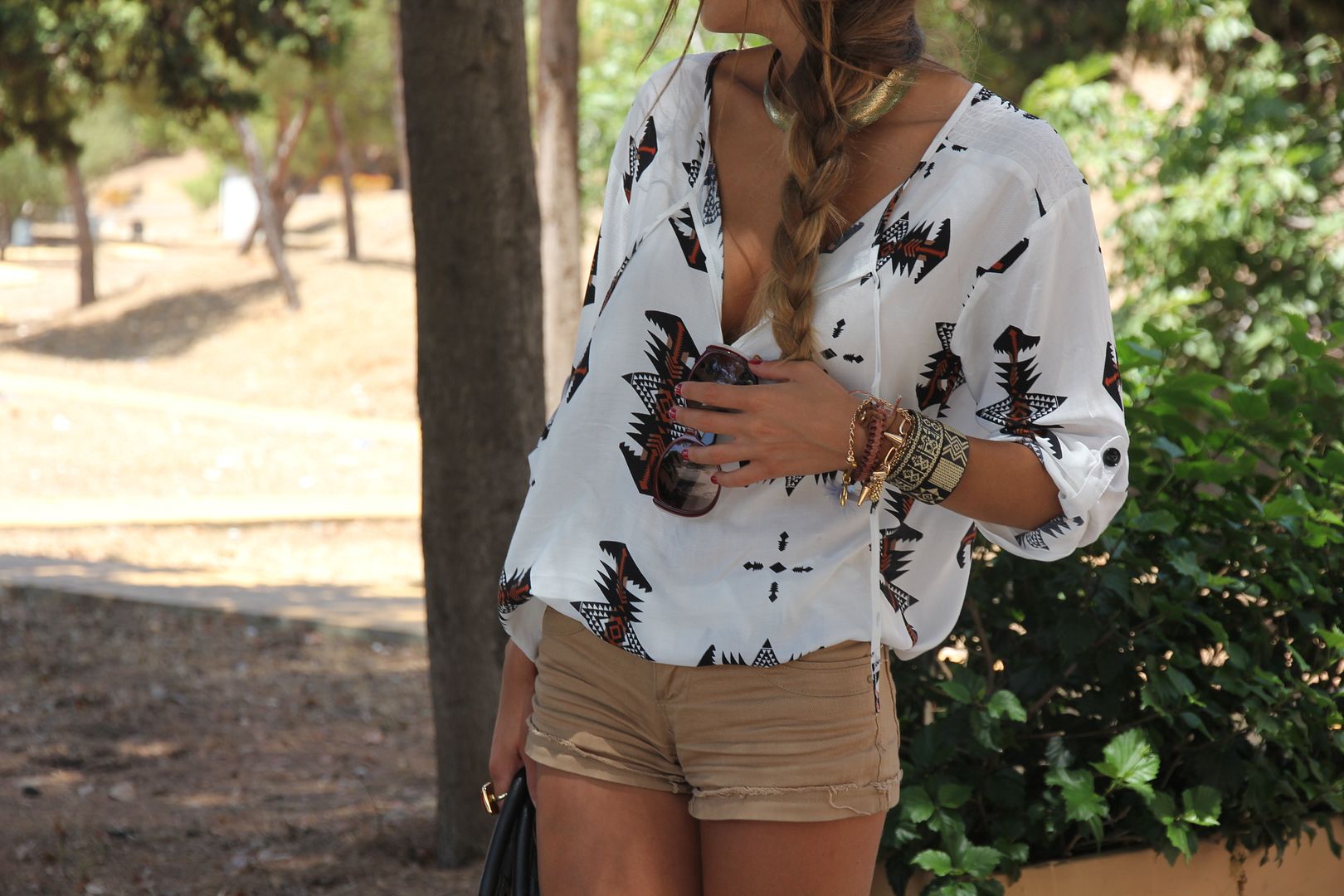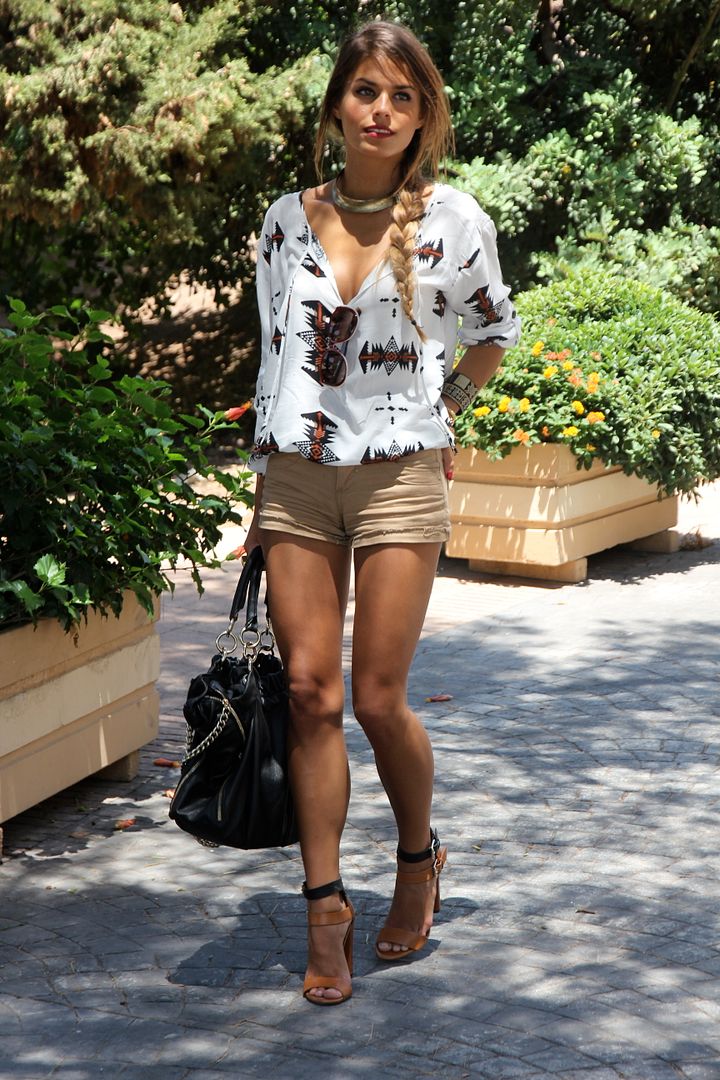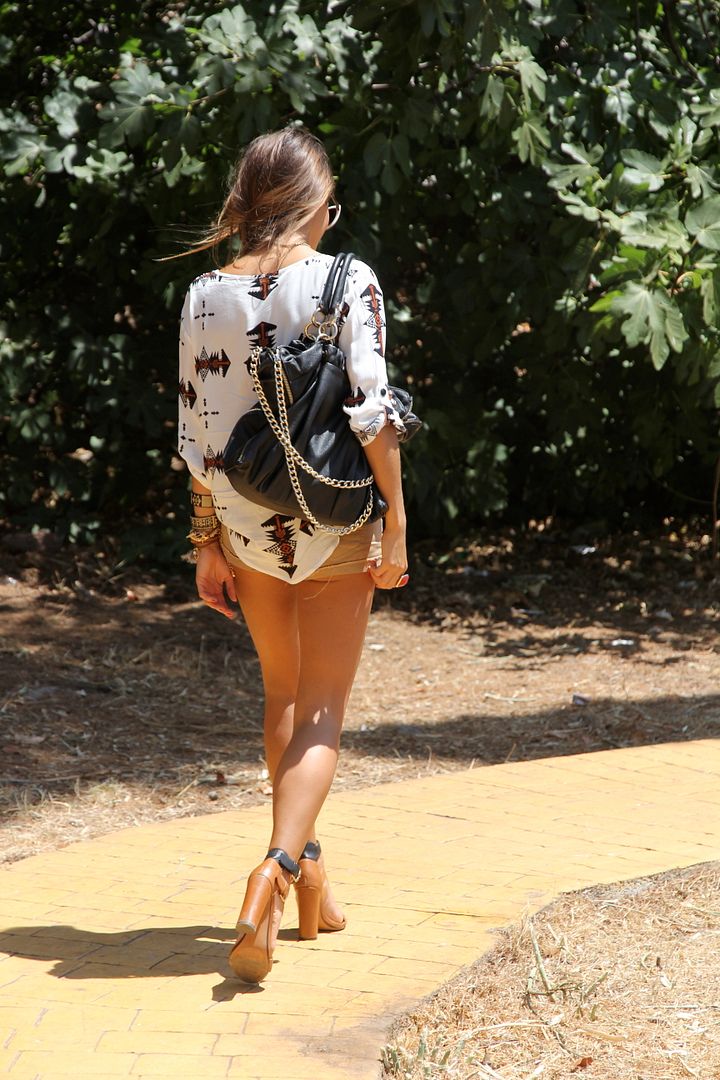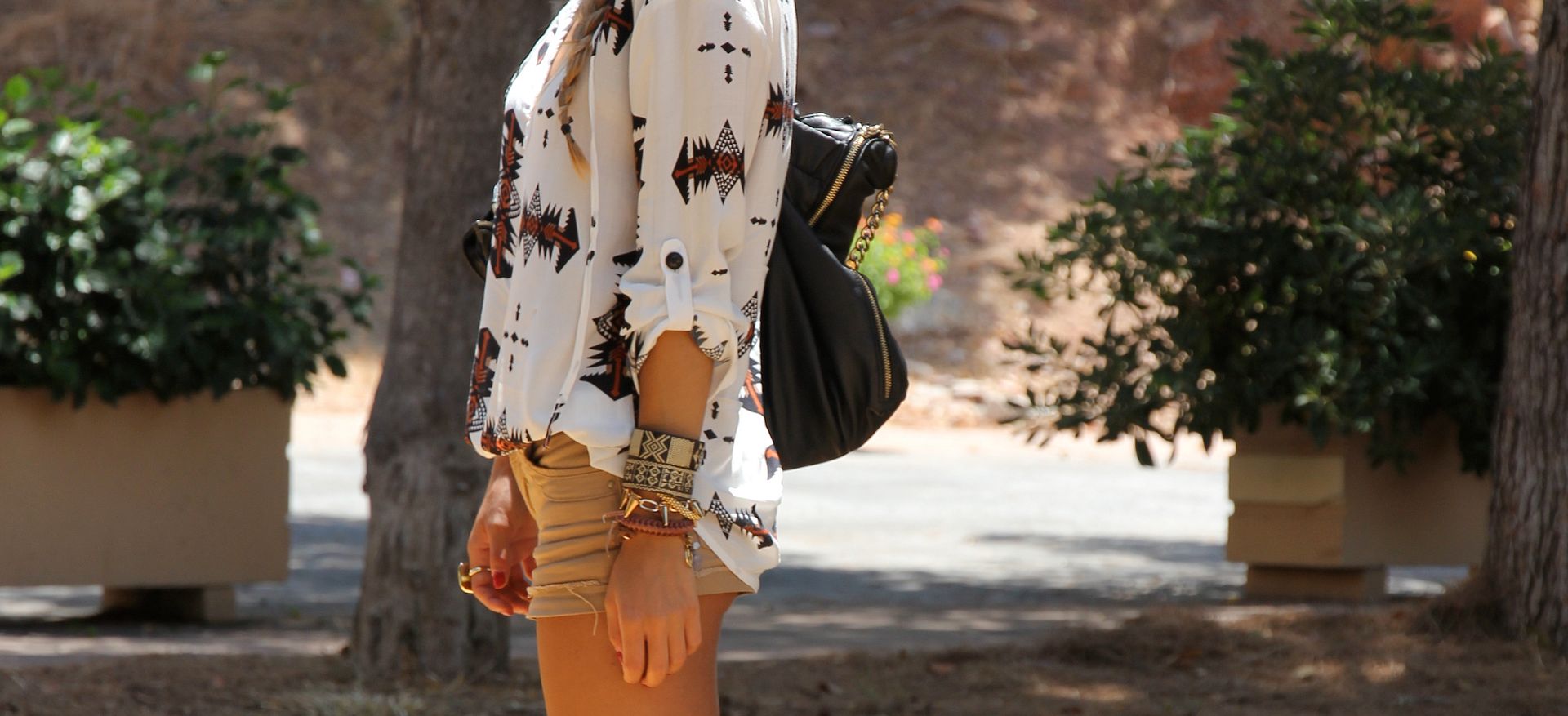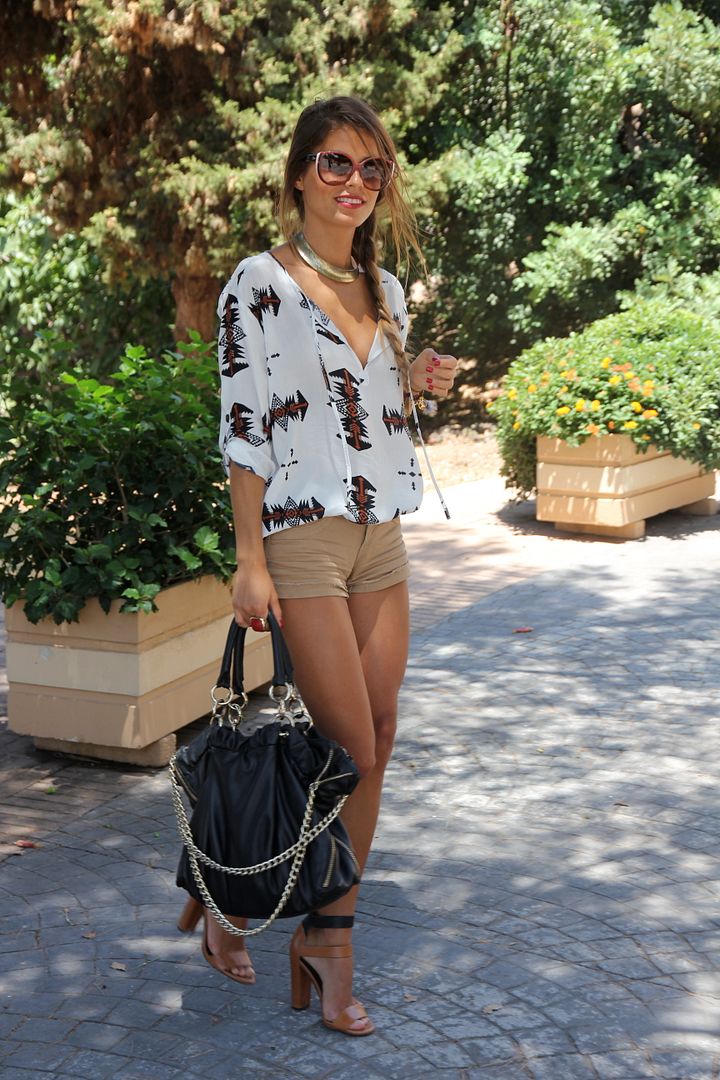 Me encantan los estampados tribales, aportan un toque divertido y lleno de color al look, además del juego que da para crear diferentes combinaciones… Llevaba un tiempo buscando una blusa de este tipo, abierta con escote y sin botones, así que sí… Mi blusa 10! Además de que es super socorrida para el verano, con cualquier short o falda combina bien, tengo ganas de probarla en otoño con jeans negros, botines y mi biker negra… Quedará genial! Aunque de momento, me quedo con el verano que me agobia entrar en las tiendas y solo ver chaquetones y jerseys?? No way!!!
Estoy super contenta con la acogida del post de ayer y del concurso! Sabía que os gustaban este tipo de post… Pero no tanto! Sabiéndolo, intentaré hacerlos más a menudo ;) Por fin es viernes, así que a disfrutar!! Lindo fin de semana bellas :)
I love tribal prints because they provide a fun and colorful touch to any look. I was looking for a shirt like this for a while, open collar and no buttons… It's beyond perfect! Plus it's a super hit for the summer combining it with shorts or skirts, but I want to wear it in the autumn with black jeans, heeled booties and my beloved black biker! But for now, I stay with summer cause I hate to go shopping and just see jackets and sweaters?? No way!
I knew that you girls love this kind of post about cosmetics… But not so! Knowing this, I will try to talk about them more often ;) Finally it's Friday, so enjoy it! Nice weekend bellas :)
I wear:
Shorts – Pull and Bear (SS 11)
Sandalias/Sandals – Zara (SS 12)
Bolso/Bag – Zara (old)

.
Martes, 31 julio 2012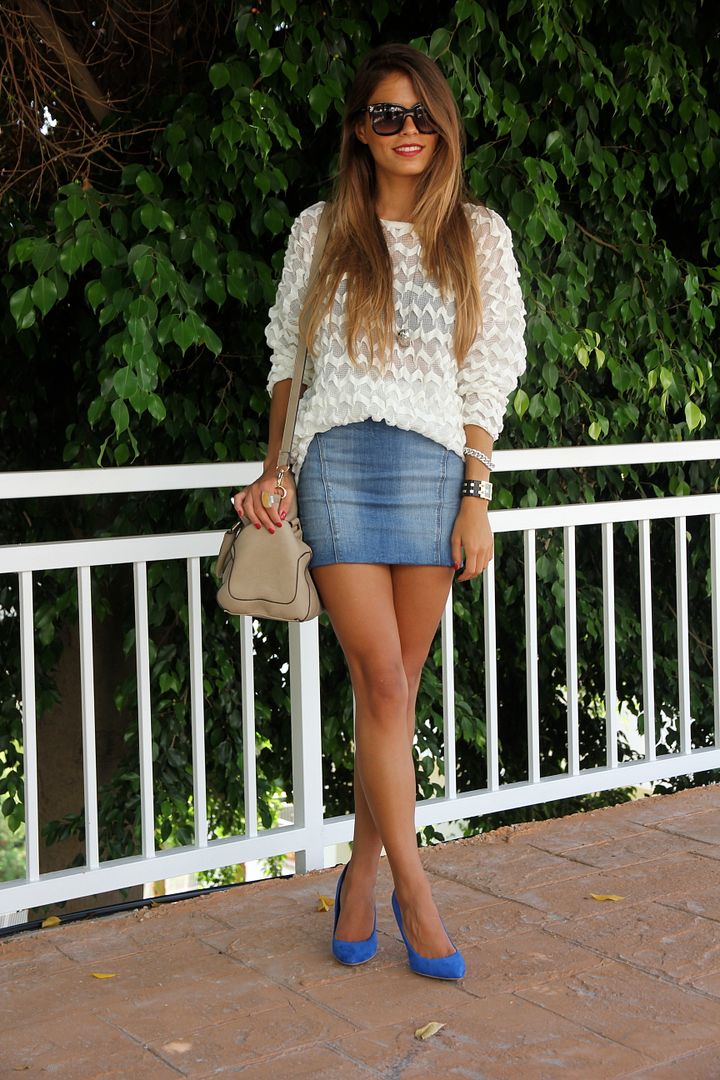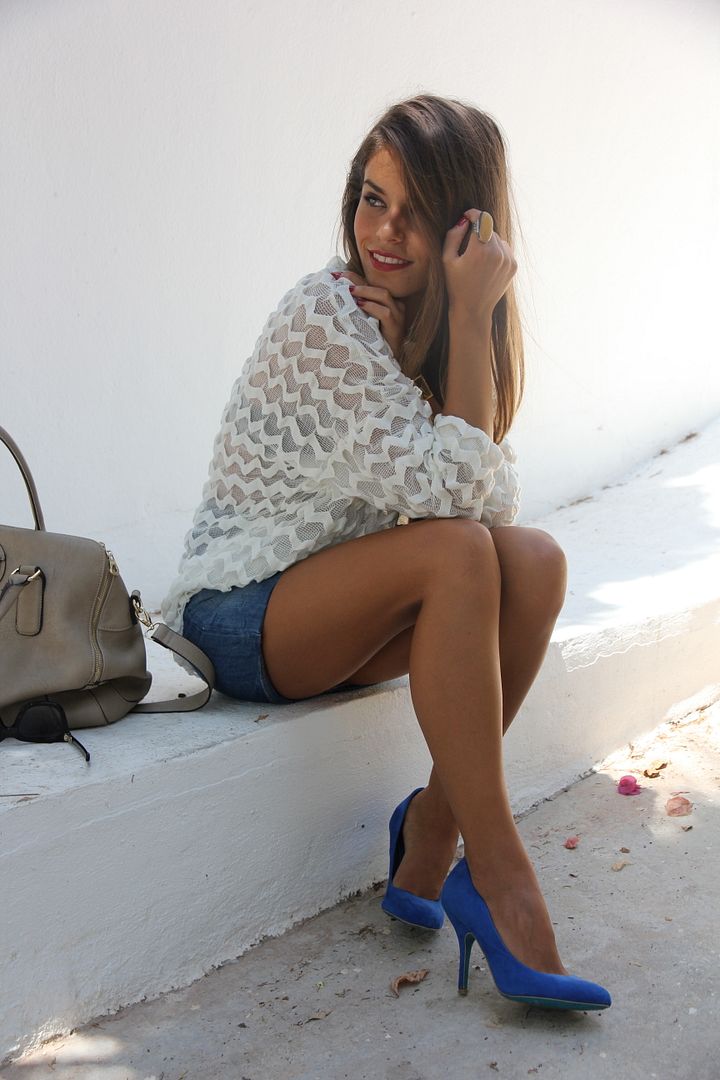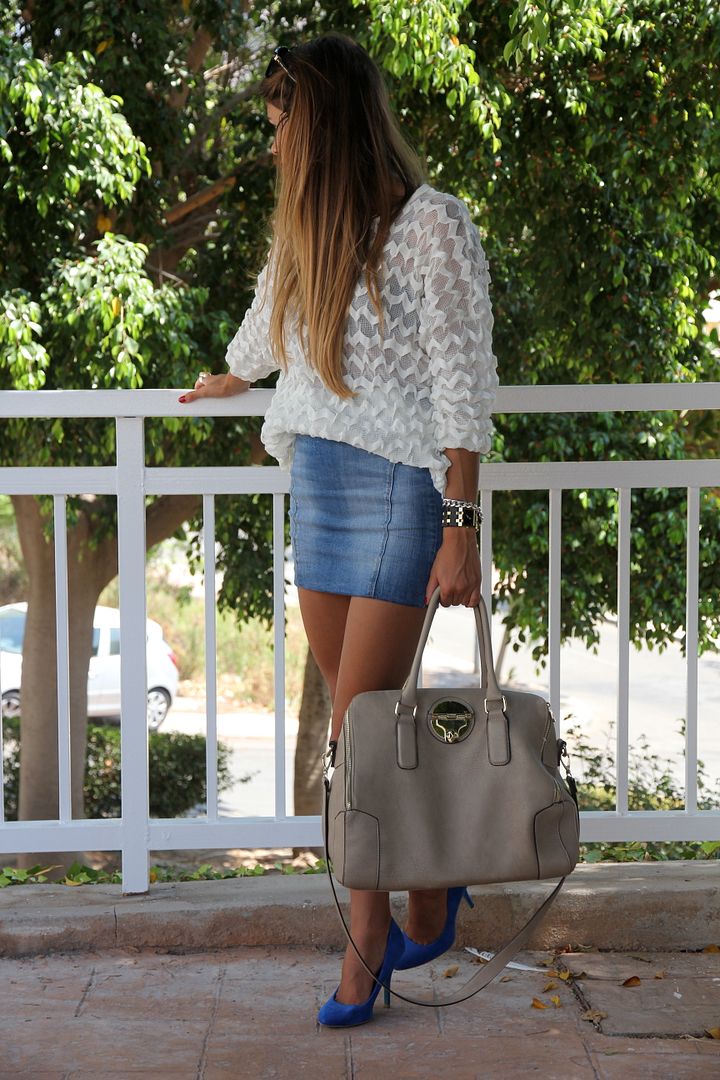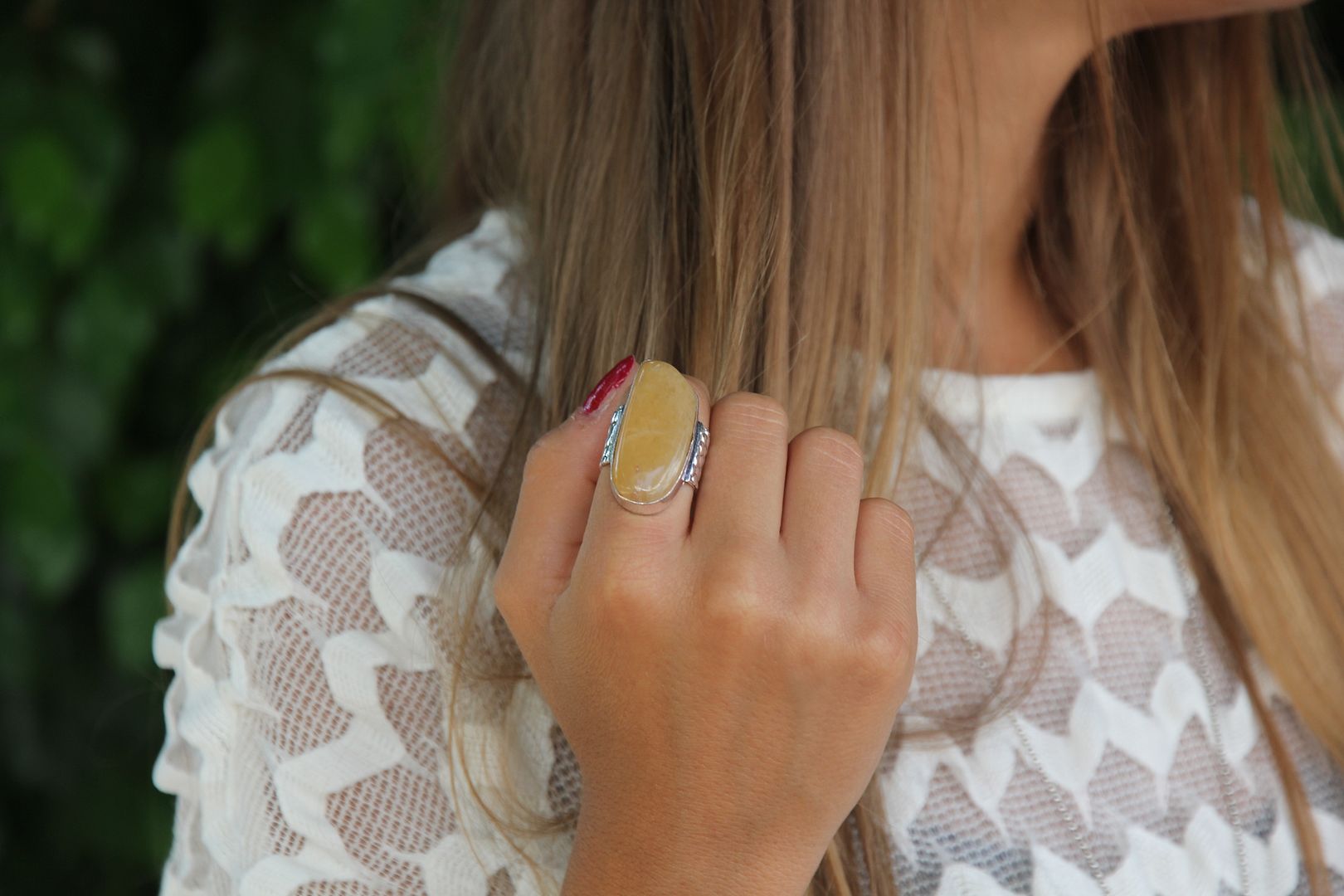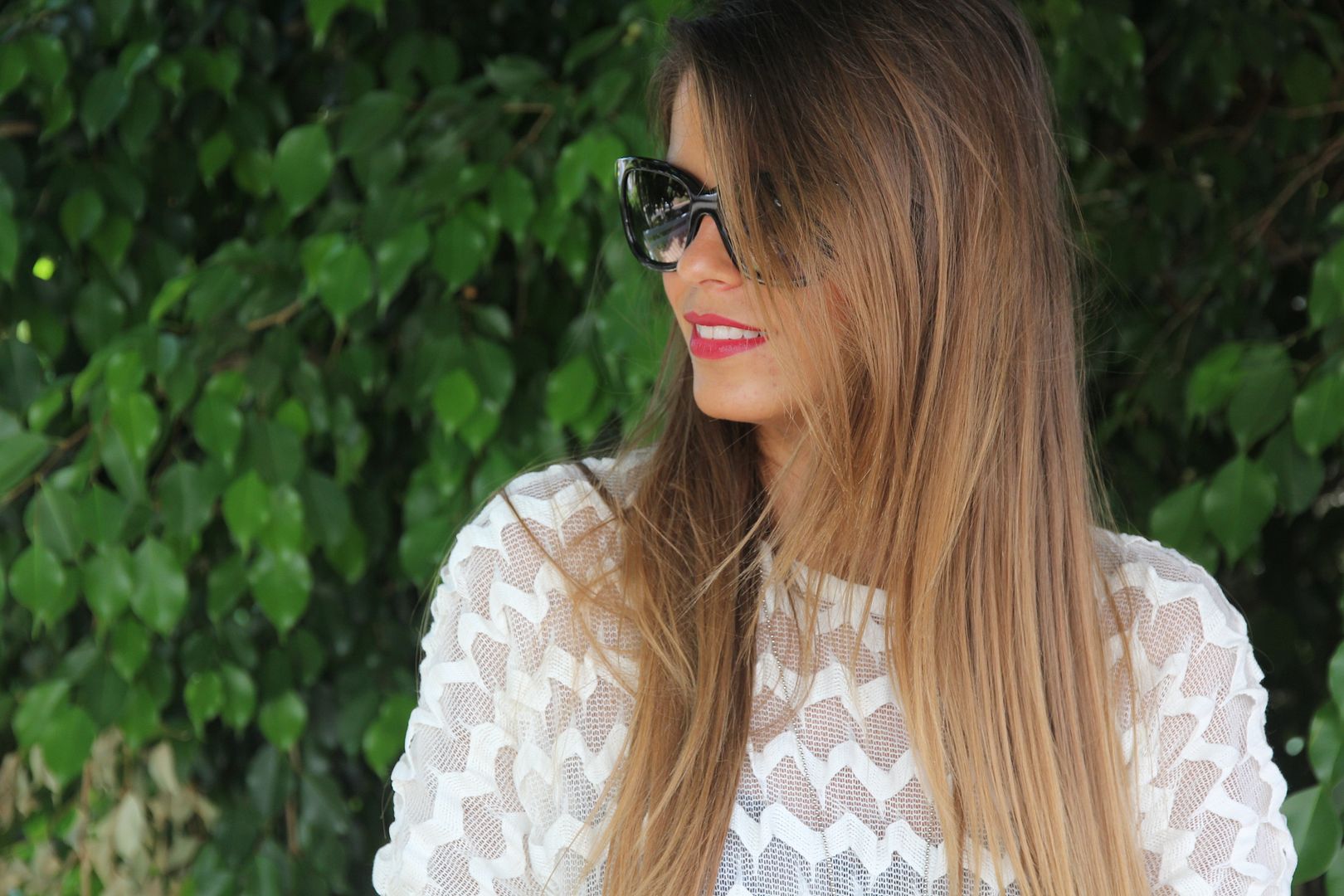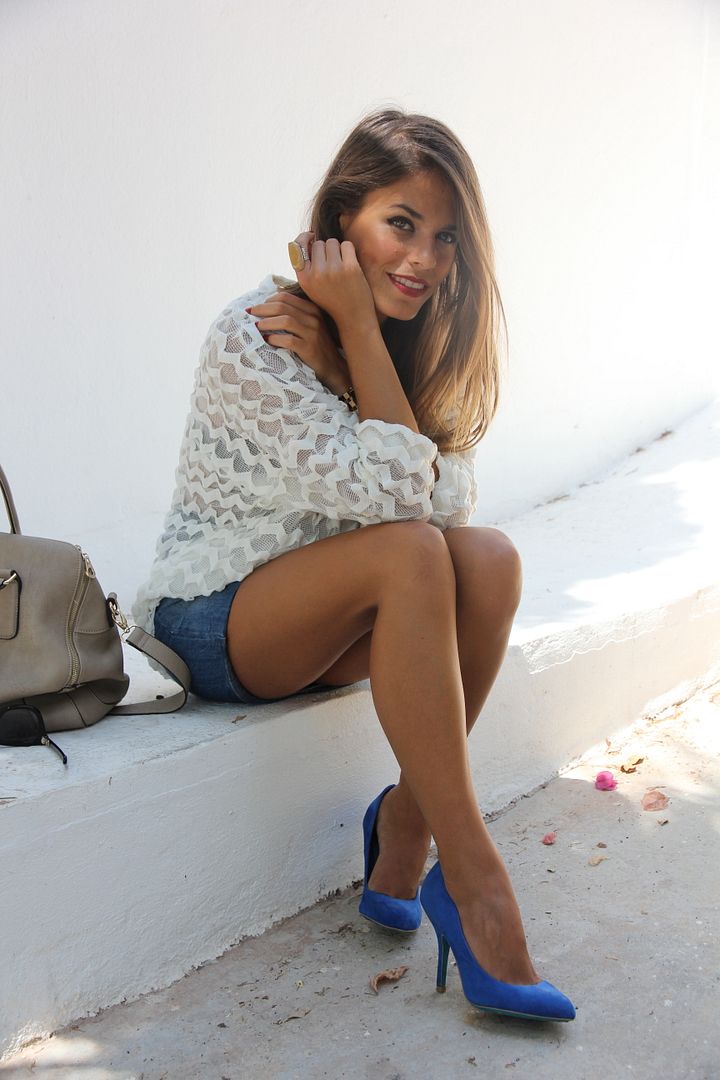 Con un poco de retraso pero aquí estoy! Esta mañana tuve que hacer mil cosas con una reunión de por medio y fue imposible actualizar antes! Hace una semana os enseñaba este top de Minusey (
AQUÍ
) y os decía que era mi favorito… Pues bien, el viernes también tuve algunos recados a primera hora, no sabía qué ponerme y tampoco tenía ganas de complicarme. De modo que fui añadiendo prendas al look y combinándolas sobre la marcha y este es el resultado! Me encanta, este top combina con todo y según el look que quieras aporta un aire u otro… Hace poco leí que volvían las faldas denim a nuestros armarios, pero lo cierto es que del mio nunca desaparecieron! Son siempre una buena opción y aunque no me gustan mucho para invierno, para el verano son muy cómodas y más importante aún, fresquitas ;)
Mil perdones que aún no pude contestar los comentarios del último post, pero es que últimamente le faltan horas a mis días!!! Aunque esta semana seguro que se hace más corta porque el domingo viajamos Salva y yo a Vigo para un proyecto chulísimo :) En cuanto al evento de mañana, ya están cubiertas las plazas e imagino que ya os habrán escrito desde Benefit para daros toda la información. Mañana os veo a todas allí, qué ganas :) Besitos y bonito día!
A little bit late but here I am! This morning I had to run errands with a meeting between them and it was impossible to update the blog before! A week ago I showed you this top from Minusey (HERE) and I said that it was by far one of my favorites… Well, last Friday I had an important meeting early in the morning and I didn't know what to wear and I had no desire to complicate. So I was adding to the look and combining them as I go and this is the result! I love this top because it combines with everything and depending on the look you want it adds a different touch. I recently read that denim skirts are returning to our closets, but the fact is that they never went away in my wardrobe! They are always a good choice and although they are not my first choice during winter, for summer are very comfortable and most important, chilly ;)
I'm so sorry because I couldn't even answer the comments of the last post, but lately my days need more than 24 hours! Luckily, at the end of this week Salva and I will travel to Vigo for a very cool project :) Have a lovely day :)
I wear:
Falda/Skirt – Stradivarius (SS 11)
Tacones/Heels – Zara (AW 11-12)
Bolso/Bag – Dayaday
Anillo/Ring – Mango (SS 12)
Reloj/Watch – Nixon The Rig

.